Is there a way to copy and paste on an iPhone in repl.it?
Hi there. Sometimes, I am not always able to be on my computer when making my discord.js bot on repl, and since I can't figure out how to paste, it makes it kind of hard to make changes (ex. My token). Sometimes, I have to manually type my token into my code. Is there any possible way to paste on an iPhone?
AARNDEJESSDE
I have the iPhone 7 and when I put my finger on a line those three points appear, when I click on those three points that small menu appears (Select all, Paste, Find, Pallet) and so I know how I could paste. I don't know if I have to see the iPhone model, because I tried it with an iPhone 5 and the menu was different (Copy, Cut, Find, Pallet) I didn't see the option to paste.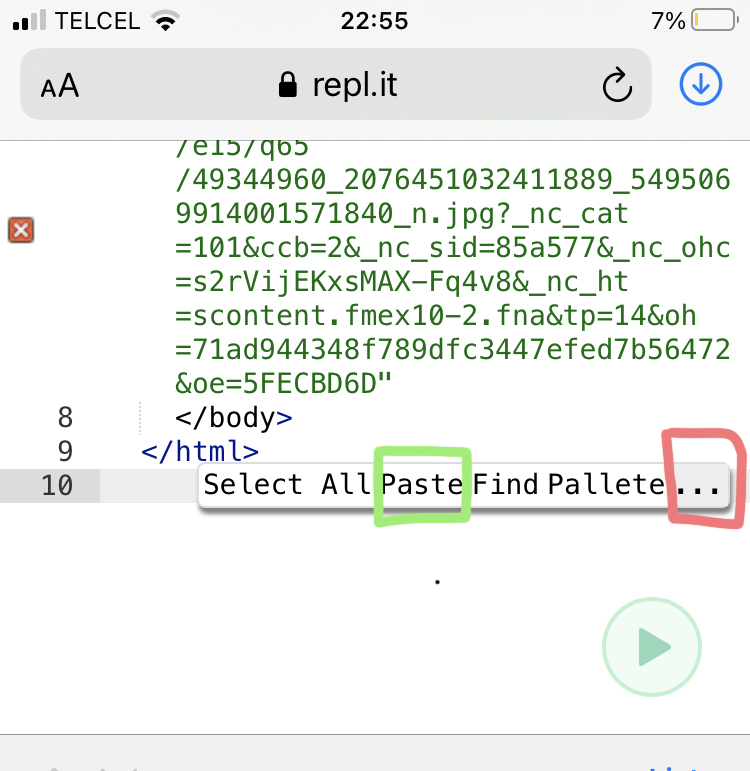 gibbsfreenergy
How I do it is I double tap the code and press select all, then I go to where I need to go and then I tap twice on where I want to paste and then press paste! The End! If this helped you then please consider choosing this as your answer! Happy Coding and a great day ahead!
gibbsfreenergy
@JollyJack8 I guess the only choice you have left is ti take a screenshot and then copy from the screenshot! I'm so sorry, I wish I could help more! f this helped you then please consider choosing this as your answer! Happy Coding and a great day ahead! Best of luck my friend