Star Wars INFO!!!! Who doesn't like STAR WARS?
This is the description, but it is a WHOLE lot more than that!
" This repl is a take on the ORIGINAL Star Wars API, but now you can SEARCH!I used the Star Wars API but I set it so you could search at different depths!First of all there are some categories. Films, people, starships, vehicles, species, and planets.Depth one shows whole pages at a time. Ten items a page. The prompt has, in order of categories on previous prompt, numbers of how many pages that one has so you don't overshoot the limit. You type the category, and then in the next prompt the page number.Depth two shows one item at a time. You type the category and then the item number. If you check the urls with all that info (start in search depth 1, I recommend) then the number is after the category.When you have got the info, you can continue with your research by typing 'no' to the prompt that says "Have you finished your research?". If you type 'yes' then it cuts the loop.
Enjoy!
SofiatheWonder"
Now for the whole lot more!
You can get the list of species, people, planets, whatever, in a movie, and, with search depth 1, quickly look for your favorite characters!
And about those URLs, they are the things that are in some of the info areas. Don't click! They take you to a website. Just search the last two things in search depth 2.
Example
https://swapi.dev/api/planets/1/
Search planets and 1.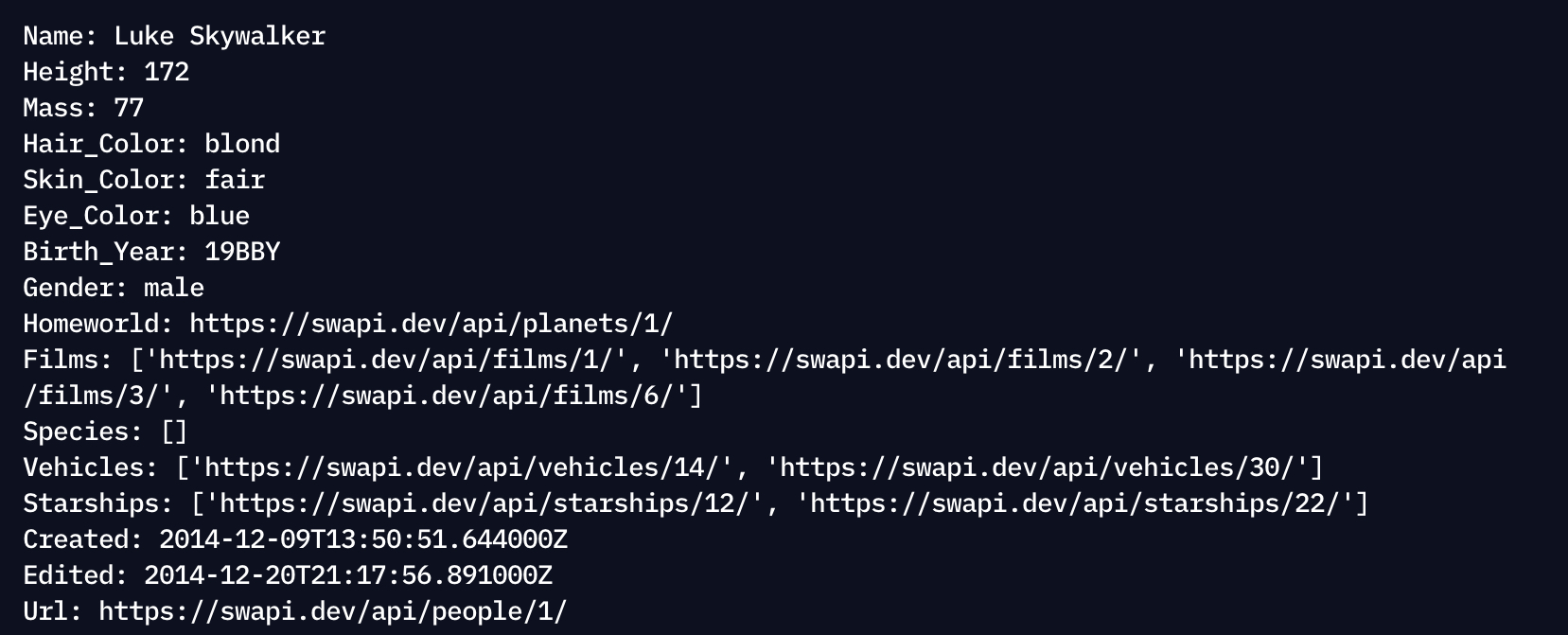 The tutorial is just the description.
There is only the first six movies, but that must have been a LOT of hard work!
'A New Hope' is counted as 1, and 'The Phantom Menace' as 4.
I hope you enjoy!
SofiatheWonder