CodeByte, A Chill Coding Forum (Jam-10 Submission)
Ever wanted a place where you can ask for coding help, or share your projects without the bias of forums nowadays? Well introducing:
CodeByte
A Chill Coding Forum
CodeByte is coding forum with simplicity and user experience at foremost. This project was created in totality by @RayhanADev. It uses FireBase as a database, EJS as frontend templating, and NodeJS as backend server. I worked as long as humanely possible within the timeline that I got, and this is the result! (Also I know I'm a bit late for the Jam, I just wanted to post this anyways).
Check it out in fullscreen here
Want to see my profile? Click here
Future Furret Development
Based on the amount of interest people seem to show, I'm thinking of taking this further by:
Adding a voting system
Creating more categories
Implementing Markdown editing
Moderation Powers
Comments or Suggestions?
Please tell me below, I would love to hear it!
Happy Coding!
fuzzyastrocat

(1840)
Your site is labeled "Dangerous" by chrome, so it won't let me enter any password. I'm not sure exactly why that's happening, but probably something to fix.
RayhanADev

(2515)
To post in the forum, you need to verify your account. Go to settings, and then hit the verify account button!
Edit: I manually verified a few who I knew
Anyone else, pingu me with your username if Repl Auth verification doesn't work :)
xxpertHacker

(930)
@RayhanADev
I clicked the button: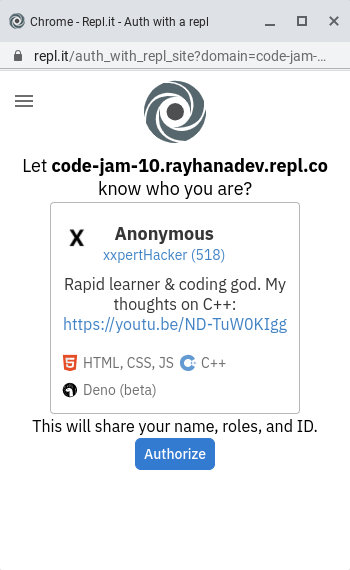 Then I was redirected here: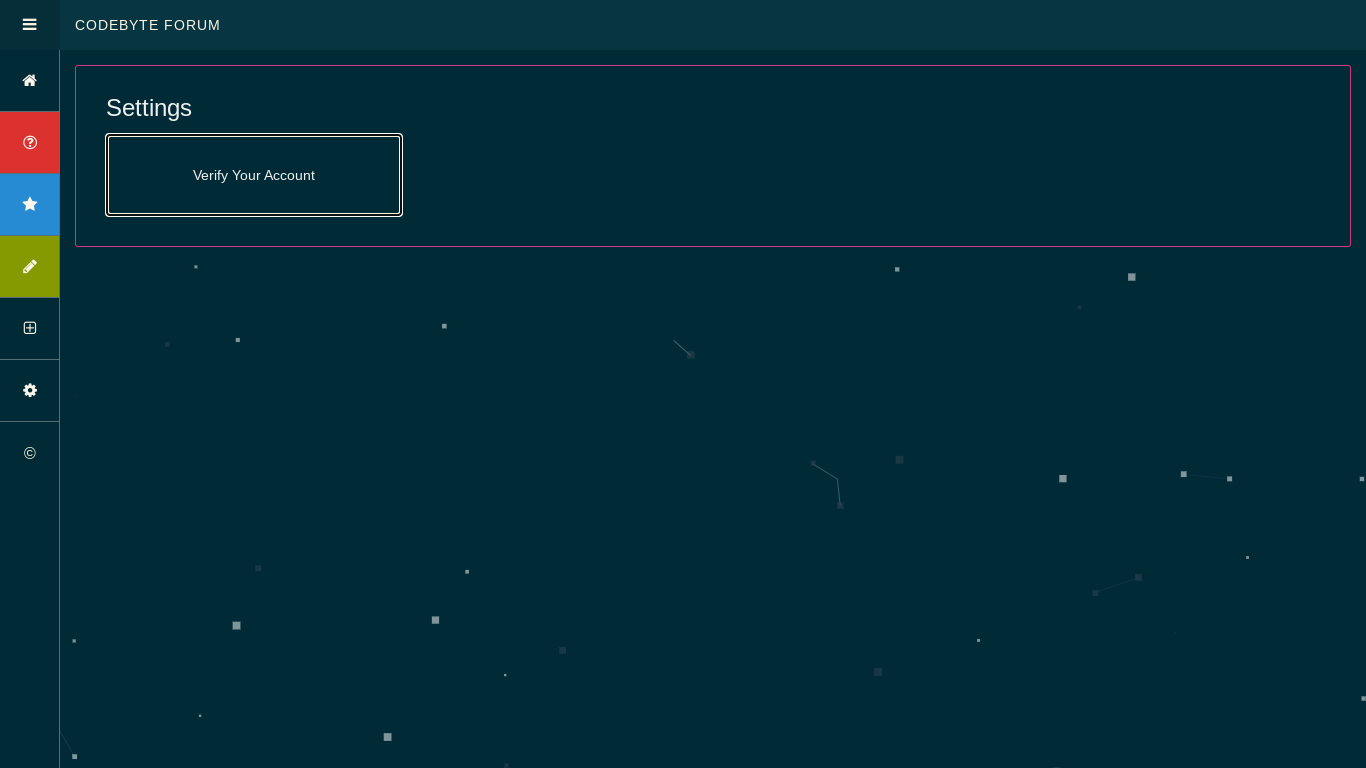 Thus, auth failed :(, I'm a fake Repler.
RayhanADev

(2515)
@xxpertHacker ahahhahahha my dude, you're actually the first person ever to auth on this website using Repl Auth (and it worked!) GG!!! Try posting in the forum to see what I mean.
RayhanADev

(2515)
@xxpertHacker xD I kinda ditched this project because nobody really got into it smh. I'm more into my big project (again) with others you may have heard whispers of ReplDash
xxpertHacker

(930)
@RayhanADev Indeed, I've heard of ReplDash.
You know what... what if we worked together some time?
Oh dang, wait, Node.js & HTML... naw, that'd never work out.
fuzzyastrocat

(1840)
@RayhanADev You should make /false take you to some page that says something like "Oops! Your account is not verified!". (If I understand this conversation correctly)
firefish

(947)
@fuzzyastrocat use edge. oh wait are you Yet Another Mac User (YAMU)? try safari oh wait repl auth is brokuenu on safari INSTALL EDGE FOR MAC
fuzzyastrocat

(1840)
@firefish Blech, edge? At least we can both agree that Safari is bad... but anyway, I'd rather have Chrome prevent me from entering sensitive info on a valid page than let me enter my sensitive info on a scammy page.
firefish

(947)
@fuzzyastrocat we also both agree edge is rubbish too, just when problems happen with firefox I resort to edge, which I installed on linux (haha)
RayhanADev

(2515)
I know I submitted late, but I put quite some effort into this so I thought I might as well share it ƪ(˘⌣˘)ʃ.