How to properly deal with spam posts
How to properly deal with spam posts
Let's say you come across a post on Ask that looks like this: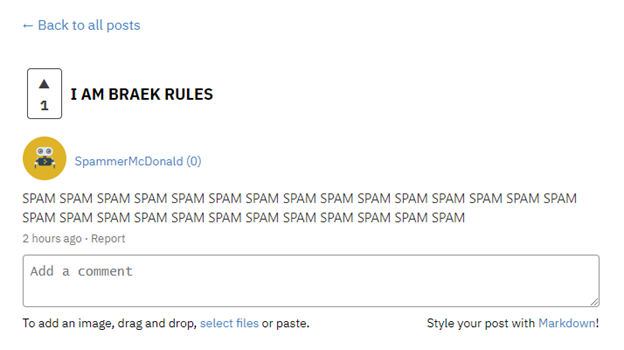 What do you do? Should you do something about it? Should you bring it up? Should you go flip a table in anger? That's what I'm going to explain today.
The process
First, begin by asking yourself, "Am I a moderator?" If the answer is no, follow this simple guide:
1.) Report the post
That's all you need to do. Don't add a comment saying "Stop spamming" or "Stfu this post sucks", that can only lead to more toxicity. You already know it's intentionally spam, they probably know it as well. No need to make a huge deal out of it.
If you answered "Yes" to the first question, then you should already know what to do. Just do whatever you did in training or something (I'm not a moderator).
Bookie0

(6262)
not only on ask boards, but there's also much on the share board, and especially classroom assignments lol.
you can also explain a bit more what to put exactly in the spam report, sometimes you can just say spam, you could also say wrong board if that's what it is, or classroom assignment, etc. ;)
PyCoder01

(55)
If somebody I know spamming I would go to their house then FLIPPIN FLIP THE TABLE AND DESTROY HIS PC AND THEN HE WILL LEARN HIS LESSON... Is that too harsh?
LingWu1

(94)
Do you know @PDanielY's Bot?I think thats a spam moderater.When I posted something,He kept on saying SPAM Score:-43.What does that mean?and I posted among us game btw
CodeLongAndPros

(1624)
whatever you did in training or something
We had training?
But yes, reporting is correct.
EpicGamer007

(1736)
Would you consider school assignments spam? I am always confused about that because I heard that that is not allowed but at the same time, I do not see what is wrong with posting your school assignments.
SixBeeps

(5219)
@EpicGamer007 Not really. This was targeted towards people who are intentionally causing chaos and posting *pointless* stuff. Those posts have a purpose.
CodeLongAndPros

(1624)
@EpicGamer007 It's because you can just send the repl link. It's like publishing your math homework in a algebra magazine and buying a copy for your teacher— you don't do it.
look at my posts tell me if there any good or interesting with whati do
@SixBeeps
well i mean likei dont really know where to ask
tho so where should i do it and how do you get thet number beside your name higher
SixBeeps

(5219)
@HunterShyrock The number next to my name is the number of cycles I have. You get cycles by people upvoting your posts and answering other people's questions.
@HunterShyrock wait so if you upvote me once i will ave 1 cycle or do you need more than one upvote for it to actually show??
@SixBeeps ok
it also says i upvote myself but i dont actually do it and do upvotes only work if you are hackker for cycle to change or is that something thats there
SixBeeps

(5219)
@HunterShyrock No that's intentional, and keep your own upvote, it's pointless not to have it (self-upvotes don't count towards your cycle count)