Hello! This is my first tutorial, so if you find any mistakes or anything you want me to fix please say so in the comments!
---
How To Make A Web Server Using Node.js
---
Step 1: Include modules
For this we need the 'express' module
we can do this by using these lines of code:
we will also need the 'path' module:
---
Step 2: Set up the Express router
when the user goes to https://www.[yourwebsite].com/
they will receive index.html.
but what if you want to have different pages?
Duplicate what we did before except, instead of just '/' you use '/yourpage'
or in my case, '/lol'
(you can see it in action here: https://web-server-template--codingandmemes.repl.co/lol )
---
Side note: Errors
To send the user to a page when an error occurs, it is very similar to the navigation(see a 404 error in action here: https://web-server-template--codingandmemes.repl.co/thisnoexist )
on a 404 Error:
For any other error, you just have to update the res.status. for instance, on a 403 error: res.status(403) and so on, you also along with that have to update the directory: res.sendFile(__dirname + '/403.html');
---
Set up the Express server to listen on port 3000
And thats it! You can check out my template below!
(Note: if you want your server to stay up 24/7-ish use UptimeRobot. It pings your repl every 5 minutes, or the interval you set it too.)
Here is an example of my uptime robot for my server(its free)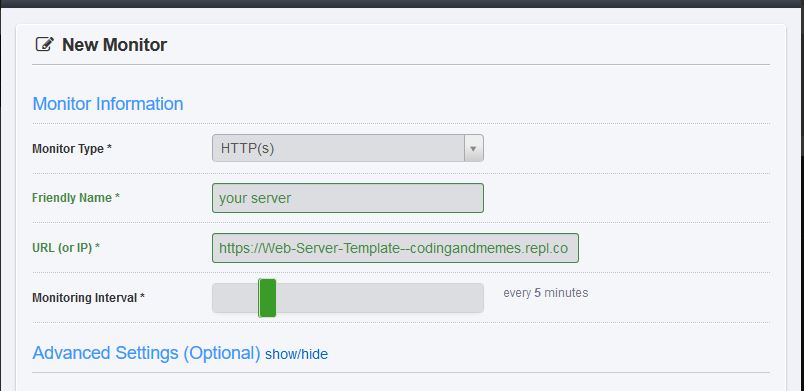 You are viewing a single comment.
View All