Unable to run the Flask App
Hi. I saw a few posts here and changed the port and stuff. But still, I'm unable to run it. When I go to the URL (repl.co) it says Hmmmm.... We Couldn't Reach Your Repl Make sure your repl has a port open and is ready to receive HTTP traffic.
What to do?
Also, I want to invoke the function hwChecker() when a request comes to the URL.
My repl: https://repl.it/@sarveshmrao/webapp
Thanks in advance!
RYANTADIPARTHI

(6047)
That's because your server is down, or not working. maybe do that. if it still doesn't work, report to bugs.
sarveshmrao

(0)
@RYANTADIPARTHI Actually it works if I leave it as it is for about 2 hours or so running. Then when I return to the repl tab it shows all the status code 200 logs in console and shows Hello World!` in repl.co window and repl.co URL also works in new tab.
Coder100

(18939)
Make sure your selenium browser action is non-blocking (i.e. other code after it can actually be reached). I recommend you use multi-threading to insure this.
Also report to bugs
sarveshmrao

(0)
@Coder100 the selenium browser actions are inside functions. So it gets executed only when the function is called. I just need to invoke the function when the web server gets a request.
Also, the console gives the below as output.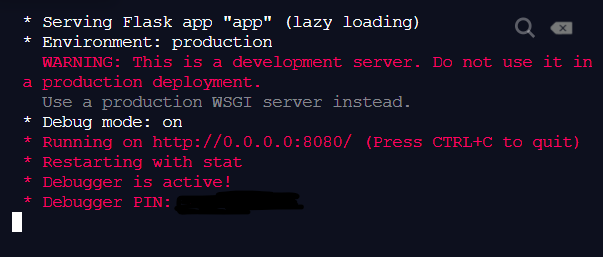 So this means flask has been started. But I'm unable to see it in the repl.co URL.