How can I enable chrome Dev tools on a chromebook that has disabled it?
Any and all available ways to activate chrome dev tools has seemingly produced no result. I am looking for a way to enable chrome dev tools on a school issued chromebook. Anyone got any ideas?
MrEconomical

(2289)
You might be able to by booting the chromebook up on developer mode. However, this is risky and don't say I didn't warn you. You could potentially factory reset the chromebook.
AdCharity

(1317)
@MrEconomical That is probably not a great idea - factory resetting a school chromebook for developer mode will likely result in trouble, and chrome dev tools are not activated by developer mode - they are built in browser.
AndersOverby

(0)
if you factory reset a Chromebook which is shool issued it will keep your data at the school web
AdCharity

(1317)
I will offer an official answer: You Can Not. It is not possible. The school has restrictions that block these tools, so you cannot use them. For me, they are also greyed out, which is why I have to rely on the repl console and try/catch method to give me errors. This is also why control shift i will not work. On the other hand, there is a bookmarklet that can give the effect of inspect element, which uses firefox XRay:
javascript:(function() {
var script=document.createElement('script');
script.src='https://goggles.mozilla.org'+'/webxray.js';
script.className='webxray';
script.setAttribute('data-lang','en-US');
script.setAttribute('data-baseuri','https://goggles.mozilla.org');
document.body.appendChild(script);}())
OR
javascript:(function(){var script=document.createElement('script');script.src='http://webxray.toolness.org/webxray.js';script.className='webxray';document.head.appendChild(script);})();
OR
javascript:(function() {var s = document.createElement('script');s.type='text/javascript';document.body.appendChild(s);s.src='http://webxray.toolness.org/webxray.js';void(0);})();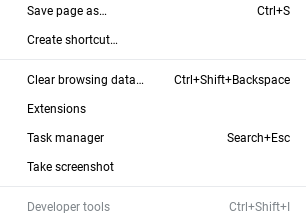 -> See, it's greyed out
You can mark my answer as the correct one :D so we can close this post out.
AdCharity

(1317)
@PastaManno Unfortunately, no. There were several bookmarklets that would allow you to mark elements on the page, but nothing with the console :(
WilliamPenrod

(41)
Actually, try CTRL+ALT+T to open crosh and copy, rename and run the devtools package from there.
WilliamPenrod

(41)
You cannot, easily anyway, there is a way.
What do you want to do with the dev tools?
Vandesm14

(2644)
There used to be a bookmarklet called Firebug, but I'm pretty sure they terminated the project and canceled any further updates.
Vandesm14

(2644)
@TaylorLiang Dang. Well, there's no other program like Firebug which works and is free. You can try some deep google searches but I'm not sure of anything will come up.