Hi, recently I decided that I wanted to try and fork a Github repo, and at first, I couldn't figure out how to configure the run button, but then I figured it out, but now I have an error telling me it can't find something in the code, but when I look in the code, I can't seem to find where the error is. Can someone please help?
P.S. In the "Licence" file, it does say that I can use this repo.
TheMaster7661
@EpicGamer007 @RYANTADIPARTHI I figured out that I just have to press play, and the modules that the program doesn't find, I just have to type pip install [module name]
and keep pressing play and installing the modules, but I ran into this one error, that you can see yourself if you run the program and try to install the not-found module.


EpicGamer007
You need to install a package named "babel":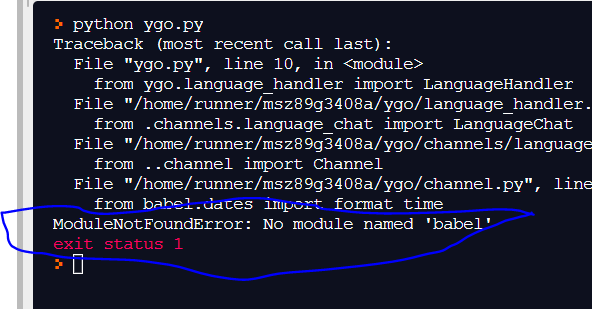 im pretty sure all you gotta do in this case is type pip install babel into the console
but wait wait
have you heard of babbel? The creator might have made a spelling error and it should be babbel instead of babel
The creator also calls it language_handler so it is very likely there is a spelling error