Weekly Post #3 - Encrpypter/Decrypter
This is my third weekly post. I'm posting it a bit early this week because I feel like I haven't been posting much lately.
This is a simple encrypter/decrypter that can encode a secret message.
It's very simple. To encode a message, type your message. It will ask you if you want to [1]encrypt, [2]decrypt. Type 1. It will give you an encoded message.
To decrypt a message in code, simply type in the coded message. (Caps matter) Then select 2, and it will give you the original message.
Here is an example:
Encrypting: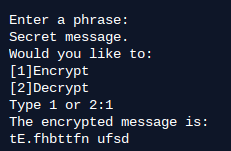 Decrypting: