✊🏾 Black History Month ~ Celebrating African Americans
👋 Hello!!
Hope everyone is doing safe and well! It's February, and the whole month of February is Black History Month!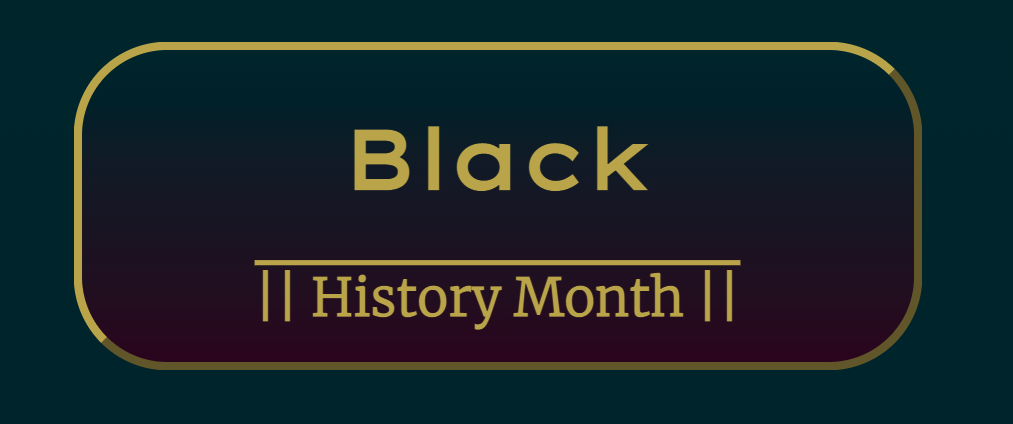 After an assembly on racism (that was unfortunately zoom bombed) and a U.S. History report, I had the idea to make this Black History Month site which shows some important Black people who changed history. I also took this time to practice a bit of HTML CSS (though it isn't thaaa good lol).
---
What is Black History Month?
Black History Month is the annual celebration of achievements by African Americans. It is a period of time where to recognize their important role in the United States history.
---
How did it start?
It started in 1915, 50 years after the the Thirteenth Amendment was signed in 1865. As you probably know, the Thirteenth Amendment ablished and made slavery illegal in the United States.
So in September of 1915, the historian Carter G. Woodson as well as the minister Jesse E. Moorland created the Association for the Study of Negro Life and History (ASNLH) which was devoted to research and and promote achievements by people of African American descent.
In 1926, the organisation chose the second week of February (which coincided with Abraham Lincoln's, 16th president of the United States, and Frederick Douglass', an abolitionist, birthdays). This event inspired other schools and communities in the whole nation to organize local celebrations, with lectures, performances, and more.
In the following decades, mayors of cities began to also recognize this Black History Week, and in the 1960s, with the civil rights movement, it evolved into Black History Month.
---
What's this site about?
This site talks about and shows 19 important African Americans who played an important role in the United States. It'll show their name, a picture of them, who they were and a quote.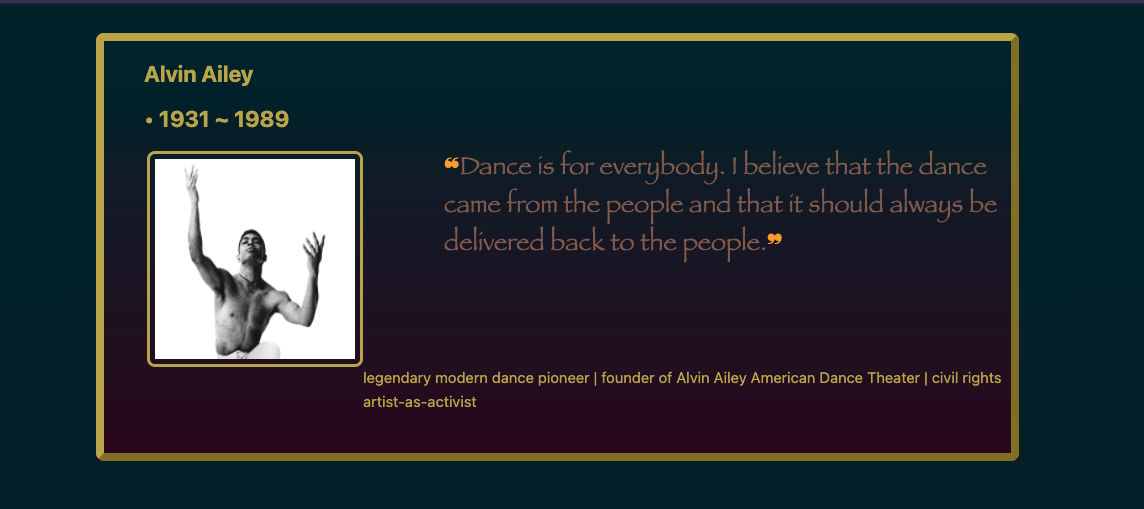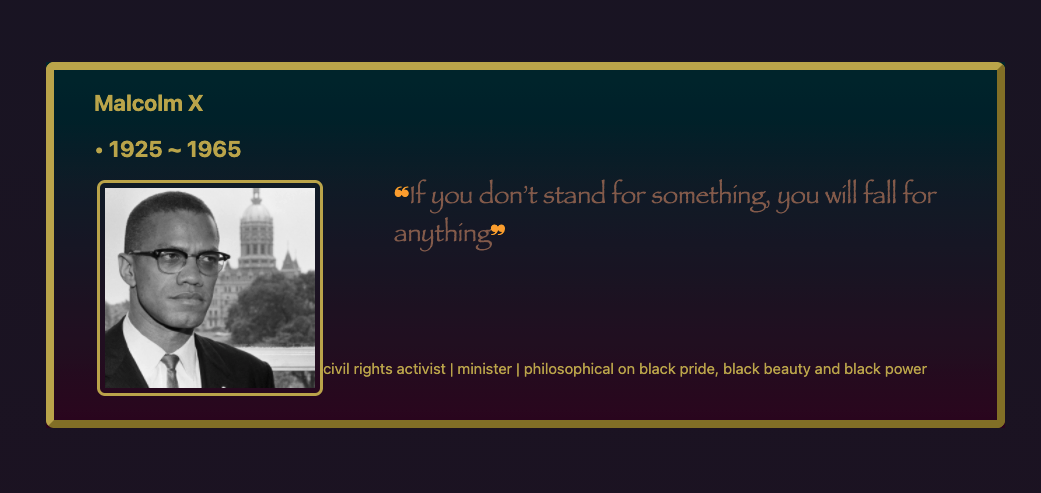 You might recognize and know some of these people, but some of them might be new to you! There shall be civil rights activist, singers, sports players, buisness owners, etc. You'll see familiar names like Martin Luther King Jr, Michael Jackson, and Maya Angelou, and some lesser-known folks like Robert Abbott, Madam C.J. Walker, or Thurgood Marshall.
You can also hover over the different textblocks and images to see them move.
Hovering: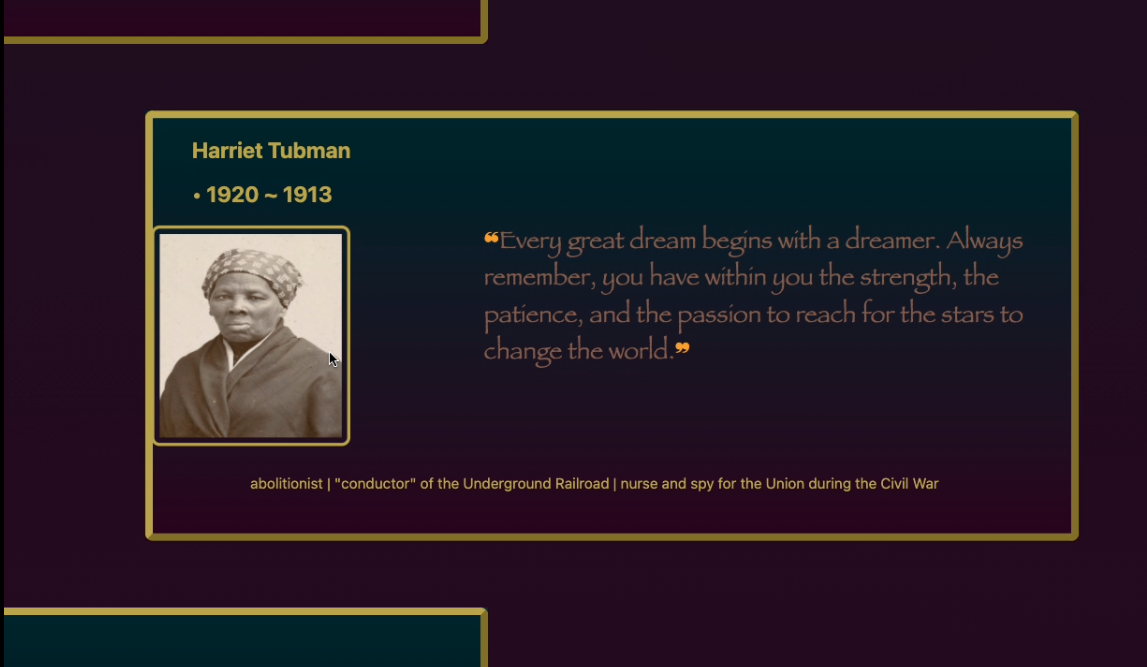 If you have any other important people that I might have missed out that you think are important, comment them down below with a link about them and I'll try to add them!
---
Sources
---
Closing
Well, that's about all! Open the site in a new tab, and make it fullscreen or as big as possible to enjoy it the best!
Have a great day everyone!
👋 Au revoir, and have a great end of February!
PS: (Yes, I've said last year I'd soon post a Pizza Making game, I kinda forgot about it lol and I'll try to finalize it when possible)
PPS: (Yes, there's also a Typing Speed Program I've made, that'll also probably soon be published!)
Edit: set the width to try and make it a bit less messed up, thanks to @BobTheTomatoPie! :D
Hi @CodingCactus here, I have locked this post as the comments are getting out of hand, and are not in line with the intentions of this repl talk post.
I have spoken with the creator of the post and he agrees with my decision. I just wanted to let you all know why this has happened.
Hope you all have a good day and keep making more awesome stuff!
^
This post has been locked