❄️ [GAME] Snow Quotes! ❄️
Fill the night sky with gently falling ❄️ SNOWFLAKES ❄️ each of which reveals an inspirational QUOTE when you hover over it. Happy holidays everyone! 🎁
https://github.com/rolandjlevy/snow-quotes/blob/master/public/images/snow-flakes-demo.gif?raw=true
Links 🔗
Features 💡
Customise your Snow Quotes with various letters and numbers, select the amount and colour of snowflakes
Click on the 'SEE YOUR SNOW QUOTES' button to see the result on the next page
Hover your mouse over each snowflake to reveal an inspirational quote
Click on a snowflake to copy the quote text
Share this app with your friends by clicking on the share buttons 👍
How it works ⚙️
Built from scratch with Node, Express and pug template engine on the back end
The front end uses vanilla JavaScript - no frameworks or libraries like React or Vue
Completely responsive and mobile friendly
Inspired by this Pug and CSS Workshop by one of my favourite developers 🌟 @Jhey🌟
Using the node-url-shortener node package to shorten the URL for sharing
The quotes are fetched from an API shown in this freecodecamp.org article
The snowflake symbols are from the Mandala font using the @font-face rule
Form validation restricts keys to 0-9, a-z and A-Z
You are viewing a single comment.
View All
fuzzyastrocat

(1513)
This is really nice!
However, one suggestion: often I get snowflakes that look, well, not really like snowflakes. Like this: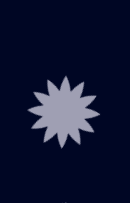 I'd suggest trying something like I've done here for more consistent snowflakes.
RolandJLevy

(1052)
Hey @fuzzyastrocat, thanks for your observation. I agree and I have written a transform function that replaces numbers or letters that render as unrealistic looking snowflake shapes with more realistic ones. For example, these characters now get replaced by different characters: 1234790ESHN.
Thanks for sharing your Flurry project with me. It's really great - nice job! I really like the coding train guy and his fun approach. He's a good teacher. I hope you have a great holiday break :)
fuzzyastrocat

(1513)
@RolandJLevy Ah ok, so that's what the letters are for.
Thank you! I do too — while I find him over-enthusiastic sometimes, he does some really great stuff. (And same to you regarding the holidays!)