SortaWeather API
A JavaScript library that makes using the weather.gov API easier.
I developed this to use in my clock widget.
Features
Easy to use
Takes care of errors
Handles geolocation
Handles requests
Generates 24-hour and 7-day forecasts
Example Code
This logs the temperature in your area:
script.js:
Enjoy!
Note
If you get "Error", the request may have failed, or you need to enable location services.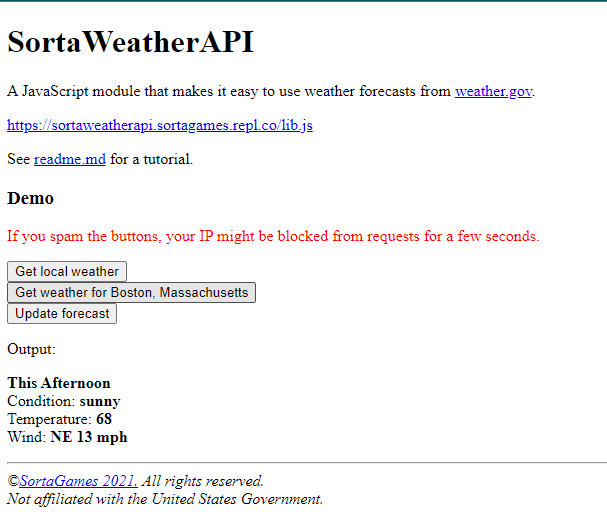 tussiez
@CyberHacker101 Heh.. hmm..
hmm..
Computer --> proxy --> The Internet
When computer loads a webpage, proxy: proxy checks web address
If it's a blocked address, stop connection at proxy and return proxy blocked webpage
If not, pass data through (and log sometimes)
CyberHacker101
if the client requests proxy for a website proxy either gives or does not give
what if we FORCE proxy to do what we need them to do? @tussiez
CyberHacker101
Why am i asking this you ask?
here's a quick answer:
school block replit --> Me angry--> get in a another way
WHAT HAS REPLIT DONE TO GET BLOCKED ACTUALLY THERES A BUNCH OF REASONS BUT STILL
@tussiez
Yoplayer1py
@CyberHacker101 Chromebooks? Hmm it literally says school chromebooks so you can't sign out ? n if u have admin perms u can remove it frm the school LAN
Yoplayer1py
@tussiez idk I have never seen a Chromebook before but in our school we had Windows and I had overheard the password frm the teacher so now I can unblock Replit simple?
tussiez
@Yoplayer1py I've had Windows laptops in school before - they are very easy to "hack". I ran a web server on one, in third grade! Chromebooks can only run Chrome, and every aspect is controlled by the administrator. You don't even know the WiFi password.
Yoplayer1py
@tussiez wait you ran a web server on it? I just try to download malware or games. How did u run a webserver on it?
tussiez
@Yoplayer1py Download nginx, write "Yay its the last day of school!!" in index.html, run ipconfig (?)to get addr, write on Post-It, pass around
CyberHacker101
I def understood what you said you don't have to lower down the smarty-ness so I could understand
Thats how amazingly smart I am @tussiez
CyberHacker101
ello i see uve made a new amazing project that code I do not understand of thank you of making such things xD @tussiez
MrVoo
Not affiliated with the United States Government.
I wonder how often people get in trouble for not including something like this...?