Pokemon Battle Simulator 2: Limited Event!
To celebrate the submission of this project to the teacher, a new opponent has been added to the sim:
MEW!!!!
Mew will stay in the simulator for one week!
Fight it if you dare.
Enjoy!
In a period of time, I may create a Legendary Pokemon Simulator, for a more advanced, and more difficult version of the Pokemon Battle Simulator 2.
Planned:
Uxie, Azelf, Mesprit, Dialga, Palkia, Giratina, Arceus, Regice, Regirock, Registeel, and Regigigas.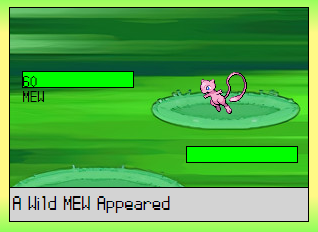 Nanowrimoijk

(63)
that mew is pretty OP, plus it treats a KO as a switch so you attack once then all other pokemon get one shot