Pokemon Battle (C++ version)
POKEMON BATTLE C++ VERSION!
A long time ago, I tried making
a pokemon battle on python.
I sucked so badly that it took literally
500 lines and nothing worked. Then...
AFK TIME!
After a while of
scratch.mit.edu and boredom...
C++ COMES UP AND TAKES OVER!
Now I know a bit of C++ (enough to make this, at least). I used it to remake the python project from long ago... and it WORKED! Now you can actually fight, and it's only around 100 lines!
---
I will soon add:
more moves DONE! ✅
more items Not yet =( ❌
maybe more POKEMON? Not yet =( ❌
---
That button at the top left which has a number in it looks so sad and gray... how about you click it and make it green and happy?? =D
To type "scratch" and
spam "potion" or not to...
Hey there's new moves for the enemy check them out =D
Cool kid club:

Oh the jellybeans
how delicious they are
yay
especially the pink lemonade ones
mmmm
DynamicSquid

(5016)
Cool! Few things though:
#include <cstdlib> // what is this,
#include <stdlib.h> // and this for?

using namespace std; // you don't need this
nN34398Ff

(108)
Thanks!!!!!! I took out the unneeded #stuff
@DynamicSquid
It was for a color text thing and a clear the terminal thing... Do you know how to clear the terminal using code?
EpicGamer007

(1752)
@IreTheKID, what algorithm did you use to calculate if the person is a spammer in your rc website becuase it says I am 99%-100% a spammer and I want to get it lower... It is really embarrassing. I didn't think I was a spammer...
@DynamicSquid I always use
using namespace std;
It always saves me some time from typing std::
But thats just how I do it.
nN34398Ff

(108)
@CarlosRosiles Yeah I can do that but I really don't care, it's pretty fun to type so yeah. DynamicSquid is talking about way earlier, when I randomly had it there.
nN34398Ff

(108)
@IreTheKID I go to the link you posted (your website) then I press on the blue link within the website... then it crashes.
xxpertHacker

(931)
Didn't expect someone to ever say they preferred C++ over Python, and nice job!
Keep it up, I for one can't wait to see what happens when you know even more!
nN34398Ff

(108)
@StudentFires Thank you! Yeah, it's a bit weird, considering python is 10 times easier than c++ but I guess I kinda understand c++ better... =D Maybe after learning c++ I can go back to python and fix up my python version of this.
nN34398Ff

(108)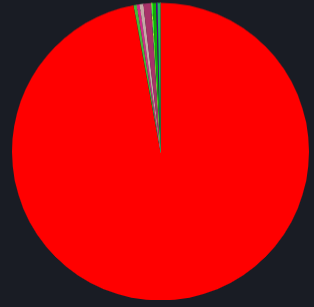 Top ten least used programming languages compared to python! I got this from https://rc.irethekid.repl.co/statistics
nN34398Ff

(108)
@HahaYes But it is pretty good... I use it rarely tho, cause to me c++ is easier to remember. Eh. I have no idea why. =D
nN34398Ff

(108)
Holy cow I made this today and suddenly it's second on the most popular "share" trending thing =0 Thanks to highwayman and dynamicsquid!!! Man the're awsom
Highwayman

(1498)
scratch scratch scratch potion potion scratch potion flame flame potion potion potion potion flame flame flame scratch potion potion flame...