Many people are accusing me of plagiarizing @objectme12's project.
I'd like a chance to clear my name..
I'll admit that I have gotten the puppy part from this dude on codepen, which would be why some of you are familiar with that part. But all the html and css are credited to me, and I did not take anything from you @objectme12. An explanation could be that you created that breakout repl, I created mine, and then you look at my code and substituted my code that I wrote into your breakout repl. And I don't know that you could actually change the repl name to whatever date, but if you could, that could be another explanation.
Here is a few screenshots showing that I have not suddenly just BOOM! suddenly tons of code appears.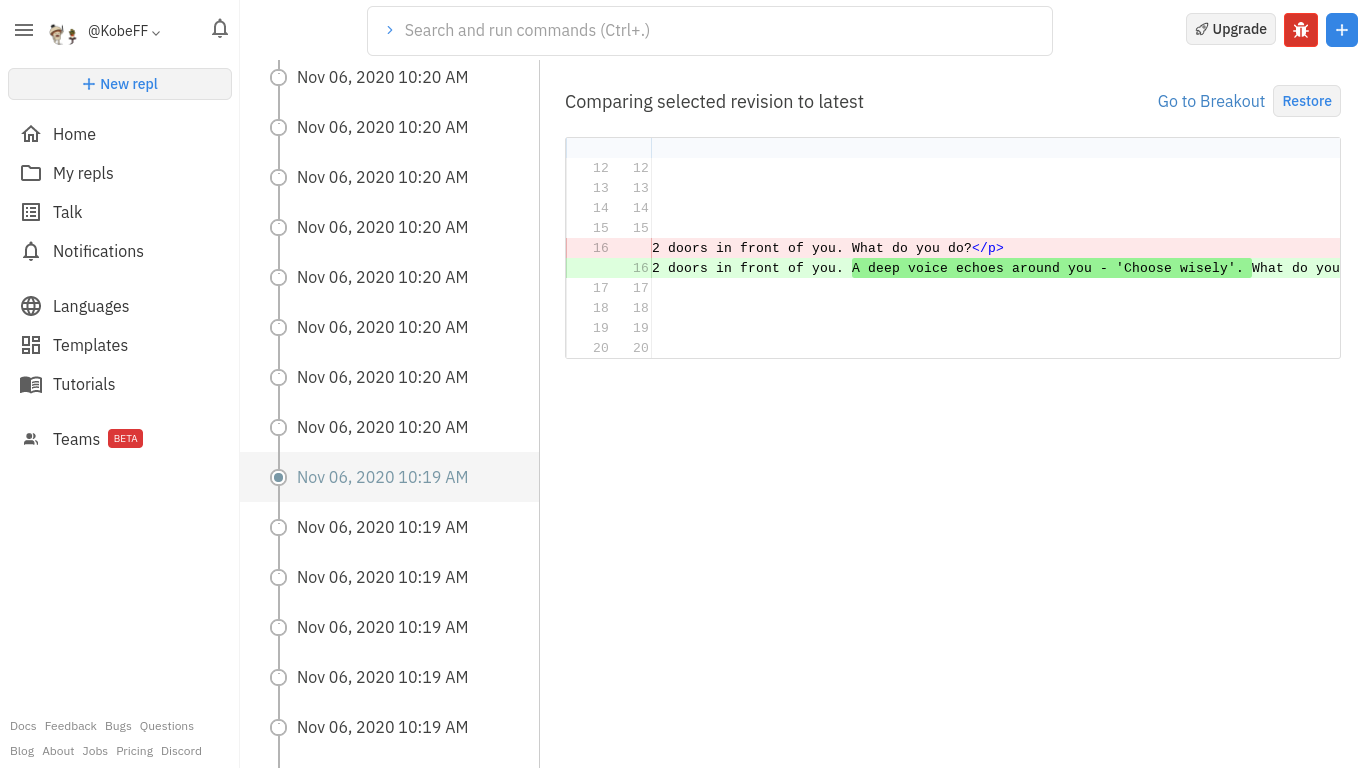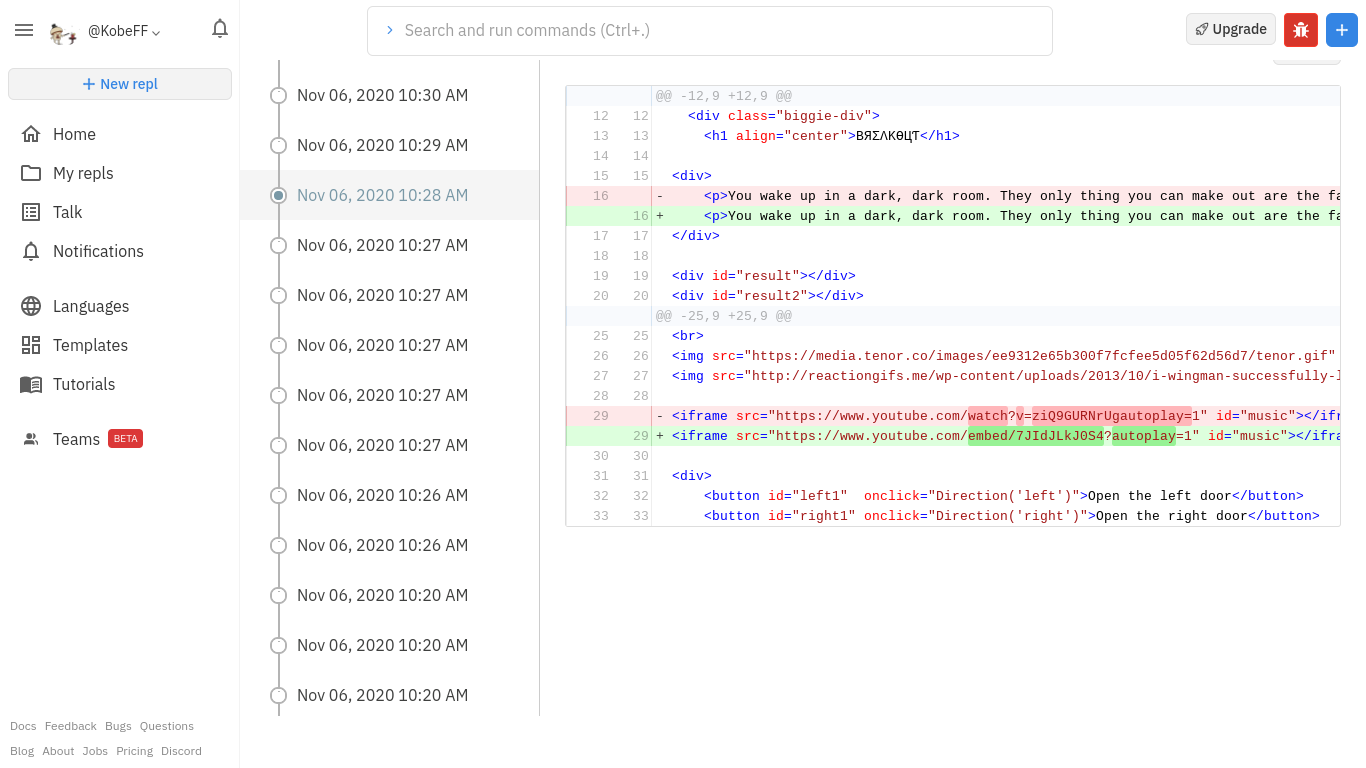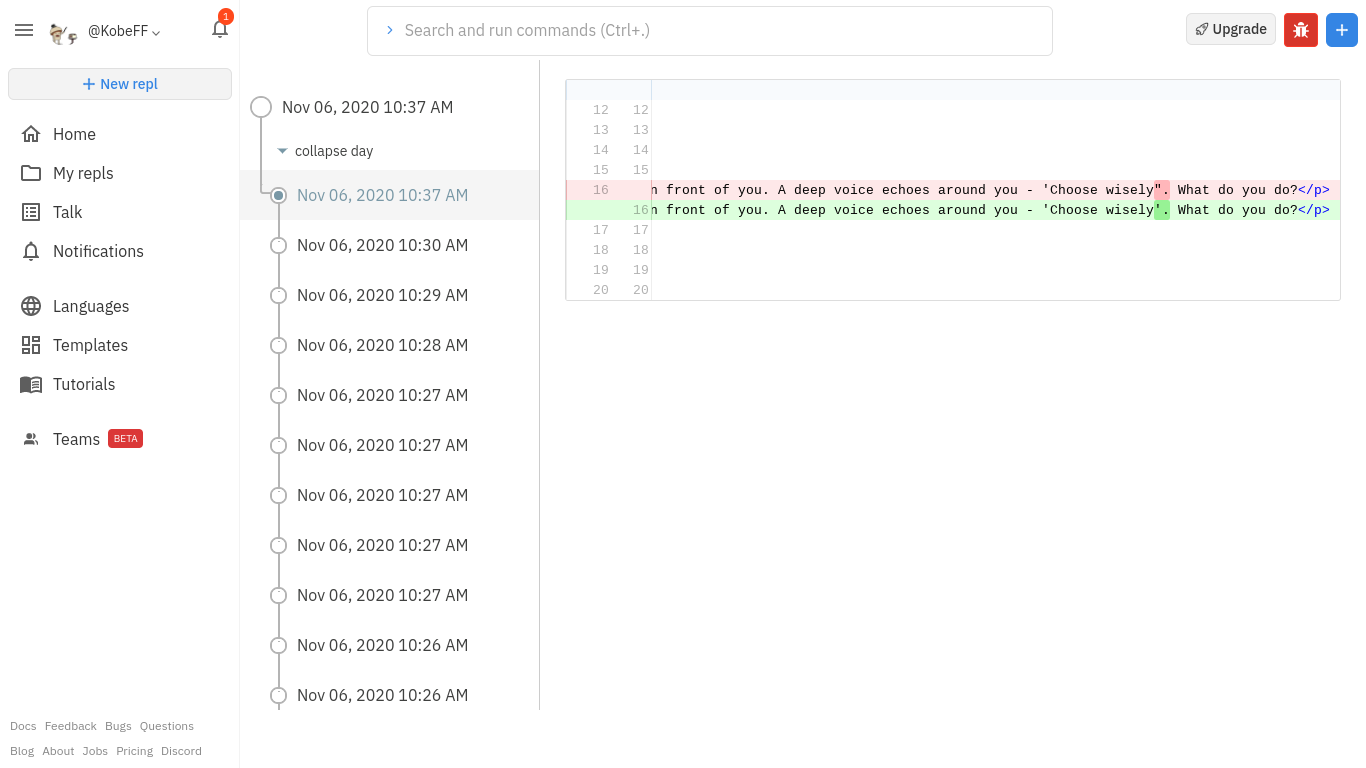 Though those are only a few, that shows that there are many, many edits. If I had plagiarized it, then there would be very very little edits, if not only a single one of copy and paste.
This post has been locked
RayhanADev
I'm sorry I know you are trying to clear your name, but please don't post this kind of stuff in Share. It only creates more drama that makes it harder for mods. Simply replying to Coding Cactus's comment would make things much easier. Again I know you are trying to clear your name, but please keep this out of share. Cheers!
~ Ray
KobeFF
@RayhanADev Thank you for telling me! I will try to change the board, though I'm not sure wut category
RayhanADev
@KobeFF thanks for understanding xD, and probably transfer everything into that thread on your post with Coding Cactus. They did ask for evidence.
RayhanADev
@rediar well...
A. just responding to coding cactus's comment works, they could just put it there
B. they could have just used Discord or that takes strain off Repl community
just a couple of thoughts...
BobTheTomatoPie
if any of you seriously think kobeff plagiarized you have probably just joined repl, this being that kobeff has showed solid proof he did not copy and objectme12 has only given a name of a repl made 9 days ago, he could have easily changed the name and inner code. I don't know what his motives were but he has a history of plagiarism and he could just be jealous of kobeff, kobeff on the other hand has never been known to plagiarise or misuse repl, he is an honest worker unlike objectme12
Ive been spreading this to help you out kobe, i feel so bad that you have to deal with this, 90% of the ppl accusing are like brand new users lol
BobTheTomatoPie
netflix made a pedo movie they are bouta get sued for it too. The movie is called cuties, the trailer alone got 2 million thumbs down and is costing netflix a fortune as so many ppl are canceling their subscriptions @DynamicSquid
RayhanADev
@DynamicSquid okay, so KobeFF published this HTML project. Somehow it's hitting 100+ votes smh. object says that the project was theirs (although they probably changed the title of an old Repl and changed some of the code, this does seem out of their skill level) and they accused KobeFF of plagarising their Repl. Now it's just drama over who did what.
DynamicSquid
@RayhanADev Making my language Night (have you heard about it?), making another language called Mirror and some other stuff
DynamicSquid
@RayhanADev Yeah Im gonna be working on night for a couple more months. I really want to get it to a solid point. Also mirror is this: github.io/DynamicSquid/mirror
KobeFF
@NicholasWhite6 Personally, Html, Css, And javascript for games like clicker games, but I think the best one overall would be phaser.js.
EpicGamer007
@DynamicSquid thanks for that book recommendation(on c++), it has been helping me out a lot! Also just a quick question(feel free to decline), Maybe later in like a month or something, if u have time, can we create a programming language together? I mean, i probably will finish the book by then and I bet I can learn more about programming languages by then(Of course, you are free to decline) I really really badly want to try that, it would be fun
Kookiez
objectme12 is saying that he worked with you on this project, and he said that you used your alt account to work with him. Is that true? Just wanted to know
realTronsi
I don't know any previous context, but showing your edit history does not prove anything.
I realize you have the same comments
same css and story lines
same ids and html structure
One of you definitely copied each other, it's just down to who plagiarized who