Reading Rewards Comment Creator
Reading Rewards Comment Creator
This program is for when your Language Arts teacher makes you do insane comments for Reading Rewards. This is an example.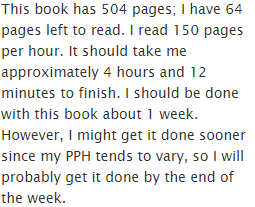 So, me being a computer programmer, I decided to make a generator for the comments. It asks for information, then does the math and creates the comment. NOTE: There is a part that you need to create your own thing once you copy and paste it, but it is overall mostly automatic.
You are viewing a single comment.
View All