[LANG] Preview of my new programming language — Responsive site!
I've been rather silent for a while since I've been working a lot on my new programming language: mollusk. It's a prototype-based object oriented language (think smalltalk or io) designed to run on embedded systems.
If you're unfamiliar with the domain, that last sentence might not have much impact. The type of embedded systems I'm referring to are extremely memory-constrained — how about 2KB of program space and 256 bytes (bytes) of memory! With this in mind, the idea of a prototype-based OO language might seem a bit more ambitious, and indeed it's a rather tall task to make it all work efficiently.
But don't let me blather on about it, that's why I made the site! Check it out at https://wk5.fuzzyastrocat.repl.co/, where you'll see some examples of the language and more info about how it works (or will work, in some cases).
And, the site is fully responsive! Featuring rearranging columns to make the most of your space and easier to view. Observe: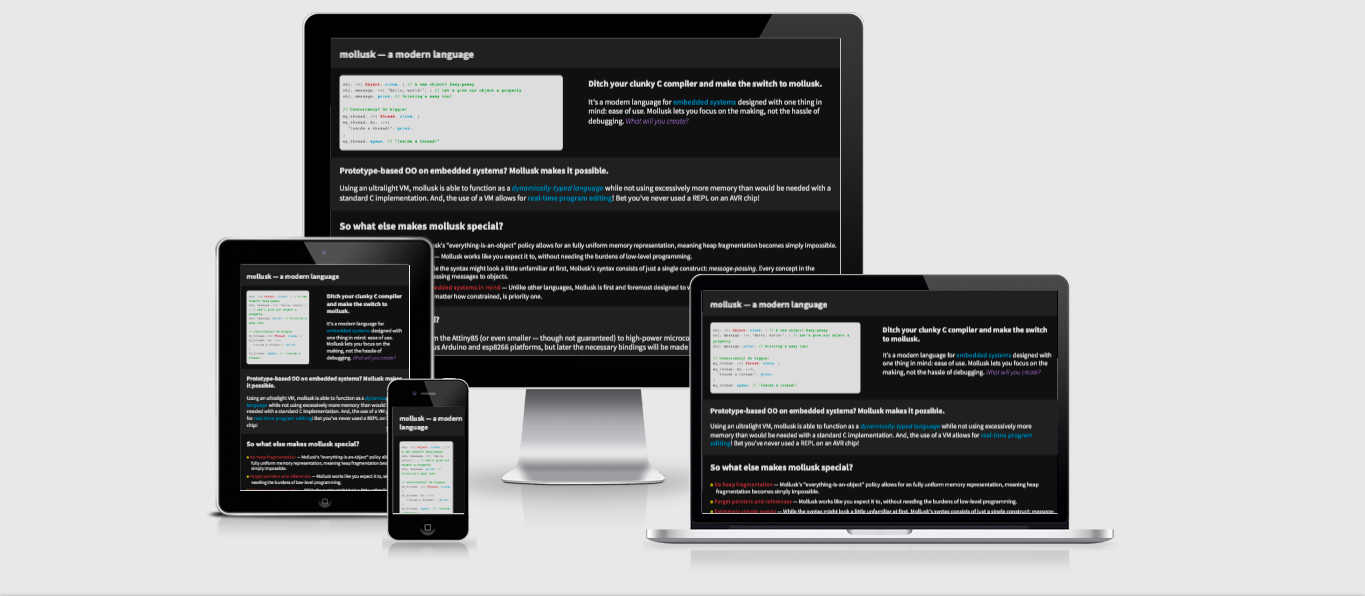 Enjoy the site, and stay tuned for the language release!
fuzzyastrocat
@EpicGamer007 Nah, if my projects were godly I'd have to be a god, and if I were a god then I'd be able to make my projects better xD
fuzzyastrocat
@EpicGamer007 I wouldn't exactly describe my pace as "churning out", but yeah I put a lot of work in and hopefully that gets reflected in the result
Bunnytoes
This is very cool, also could someone help me make a programming language, I think it would be fun to make visuals to c#
fuzzyastrocat
@Bunnytoes Thanks! If you have any specific questions feel free to ask me — otherwise, you'll want to get a basic overview of how a programming language works. I think Nystrom does this well. From there, you can make a few decisions about your language: interpreted? compiled? transpiled? C# (for reference) is interpreted on a bytecode VM, so if you're looking to make something similar to it that might be a good place to start.
There's really two good (free) online resources that I know of about language design:
If you're making an interpreted language, check out https://craftinginterpreters.com/. (To read it free online, just scroll down a bit.) This guide is a definitive resource on programming language design in general, but specifically goes into great depth about how to build an interpreter.
If you're making a compiled language, check out https://norasandler.com/2017/11/29/Write-a-Compiler.html. This one's a bit more barebones, as it doesn't go into quite as much depth about language design, but it's an awesome resource for making a compiler from scratch. Unfortunately, it's incomplete, but if you make your way through it by the end you should have enough knowledge about language design to keep going on your own. (If you follow this guide, it still might be useful to check out craftinginterpreters if you get unsure about any general language design practices.)
If you're making a transpiled language, well, I'm not really sure of any resource for that. It'd probably be best to follow the resource for compiled languages, but instead of outputting assembly make your language output [whatever the transpiler target language is]. Since there isn't any definitive resource (that I know of) for this approach, it might not be best to start with.
And a final note: you mention graphics. Graphics is a big task and language development is very slow, so don't expect to be doing graphics anytime soon in your new language. First, just focus on making the language work and develop it to the point where it's usable (which will take a long time), only then should you start thinking about extra libraries and functionality (i.e graphics, web, etc).
IMayBeMe
I've actually been getting more into using physical hardware recently so it's cool to see a lang that uses such little memory.
fuzzyastrocat
@IMayBeMe Neat! For me, hardware is the most enjoyable thing to work on, so yeah I'll definitely be pursuing this until maturity. Hopefully I'll get a first release done fairly soon and you can try it out!
IMayBeMe
@fuzzyastrocat yeah totally agree, hardware just is so rewarding to mess with. Can't wait for the release!
Whippingdot
WHY DO ALL THE GOOD CODERS MAKE PROGRAMMING LANGUAGES THAT I DO NOT UNDERSTAND AND THAT I DO NOT HAVE THE CAPABILITY TO CREATE
PLEASE TEACH ME THE ART OF MAKING LANGUAGES (in a few years) OH FUZZY ONE
Whippingdot
Also unfortunate honest review but the CSS of the website just looks awful...better than my CSS but still awful @Whippingdot
fuzzyastrocat
@Whippingdot "Do not have the capability to create" is patently false, it's just the "do not yet understand" part. You can always learn something, even if it seems hard. (If you have any questions about language design or want tips to get started, just ask!)
Regarding the CSS: Really? I rather like it, but maybe that's just me. Could you tell me what you don't like about it, that I might improve upon it?
(Also, just making sure it's rendering correctly — your page looks like the image in the post right? Click on the image to zoom in, I realize it's a bit small)
Whippingdot
Well the CSS is alright, but I personally don't like the grey. Lots of people use a black and grey design on their websites which kinda got worn out and now it just doesn't seem that good anymore. Maybe add more colorful elements? I love black too but maybe a pinch of other dark stuff like blue, green, brown, or maybe even purple? (I saw some colors in the links but those might not be enough) @fuzzyastrocat
Also this might be too much work but another suggestion is to add a dark and light mode button
fuzzyastrocat
@Whippingdot Huh okay, my mindset is probably not really up-to-date with modern website design, I haven't really seen any dark websites like this recently
(Also about language design, check out my comment above to BunnyToes if you're looking for some resources to get started)
fuzzyastrocat
@PixiGem I mean, it's all up in the air, I've yet to see how practical it turns out to be
(Also this is a lot different than Javascript)
Coder100
Yoo nice!! I'm also making a programming language: https://github.com/europalang/Europa-Lang
Maybe I could ask you some questions on implementation!
also idk why but your website looks so much like the rust documentation website dark mode combined with the landing page hmmm
fuzzyastrocat
@Coder100 Cool! (Private repo?)
Sure, if you have any questions I'd be glad to answer them.
And yes, funnily enough I was actually modeling after the Ruby frontpage, but then after I realized "oh wait my subconscious picked a font that's almost exactly the same as the Rust page". Kept it though since it looks nice
EDIT: Oh, found the repo, realized the link was just misspelled
Coder100
my bad
oh yeah i see a bit of the ruby resemblance, but I usually associate ruby with that depth and those buttons
those darn buttons @fuzzyastrocat