One of the first projects i wanted to do was hangman! Except i didn't really know how to do the actual graphics like the blanks spaces and the person. I was looking on repl talk when i saw Hangman with turtle! So i made it... I didn't use their code or anything, and i'm pretty happy with it myself :D. But if you find any bugs and or typos, can you tell me them in the comments? It took me what felt like forever to make this, so i really didn't bother looking through the code forever making sure it was perfect.
New Stuff!
New mode added, you can now choose between you choosing a word, or the computer choosing it! Also if you have any words you want me to add to the random word list(stringz), feel free to comment them below!
This is Hangman with graphics, made by me, using Python(with turtle)!
Muffinlavania

(1527)
@Bookie0 That isnt a bug.... all i found was that if you spam a letter you guessed, then it will print You have already guessed that! Like 20 times, you just have to wait a bit and you shouldnt spam the module anyway
Muffinlavania

(1527)
@Bookie0 ........ really....... well then
1) How do you prevent someone from filling in the next input(), there is no way to stop them from typing anything
and
2) It doesnt break the game in the slightest, all it does is this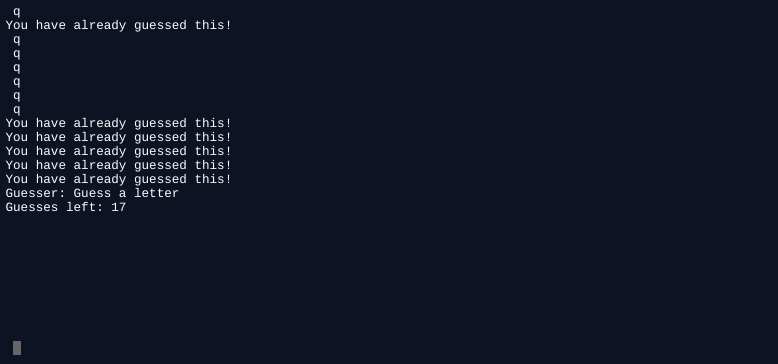 And then you can keep guessing, its really up to you if you want to spam it, it doesnt matter
Muffinlavania

(1527)
@Bookie0 wait... there was actually a bug, but it was pretty small.. thanks for letting me know!
btw the bug was that if you had already guessed a letter, it would say You already guessed that! 4 times if your word was 4 characters long or 5 if it was 5 long