The Ultimate Text Battle Royale
Fight your way through one-hundred players in an attempt to be the last one standing! Lot's of cool weapons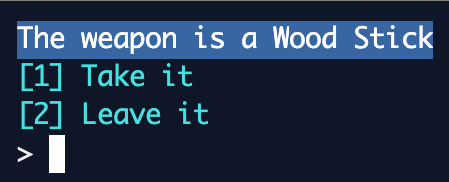 Try and beat the kill record
The current kill record is thirty-one, held by @Name12 try to beat it!!

I will add lots of new weapons and things to do!!
I just started on this project, and adding weapons takes hardly a second, so check to see lots of updates.
Pitlife 3 will come out, but it may take a while
I have just began the process of making the next PitLife, It will be the best one, and it will take a long time to make, will I make a fourth? Idk, but be excited and ready for Pitlife 3 to come out
Thanks for the popup design idea
Thanks so much to @Name12 for about half of the weapons!
By: BobTheTomatoPie
You are viewing a single comment.
View All
Name12
@BobTheTomatoPie this is a very nice game!! but I think there should be a few more upgrades on the weapons, so I added some weapons in my own reply. it is exactly the same as yours besides I added some new weapons. here's the link:
https://repl.it/join/fcaokogy-name12
Please check it out. you can find them in line 229 . and consider adding it to the same.