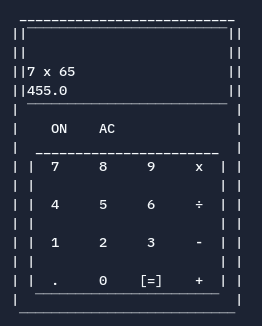 Basic ASCII Calculator made by me, Emlyn908, and @SamJ13
As it says, this is a super basic calculator. It can only do one operation at a time, and has very limited functionality, but you've got to agree, it looks pretty cool!
The code is a mess (so please don't look at it!) and I came across loads of annoying bugs which I couldn't figure out, which meant I had to make bodge fixes to replace the broken parts.
Use you wasd keys to navigate the buttons and your spacebar to make your selection.
All in all though, I'm pretty happy with it and I hope you are too!