Example test run for repl.it db
Working Form
Turn on explorer mode to use it!
Repl.it DB
Hello everyone! Repl.it just announced a new way to host your databases. They have created their own database type. It's unlike any other SQL/noSQL database: It is JSON based!!!
Links
Test run
Client code
NPM package
Github Code
Working "What do you think of node.js?" REPL
Node.js TUTORIAL
So, with help from @masfrost, I have created an npm package for it! It contains the native curl functions, and includes more (like emptying database, setting automatic types for values and more!) Also along the way, I learned testing with jest...
Also, I got the hacker plan!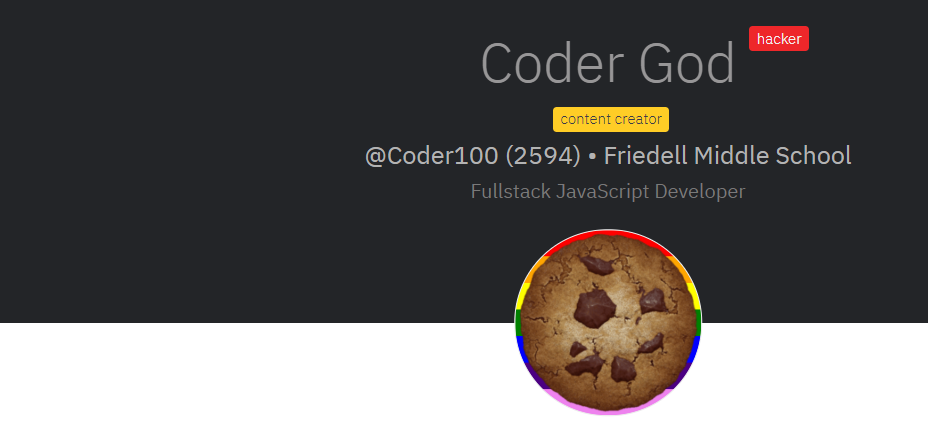 Without further ado, here are the docs!
1) Click on the floppy disk: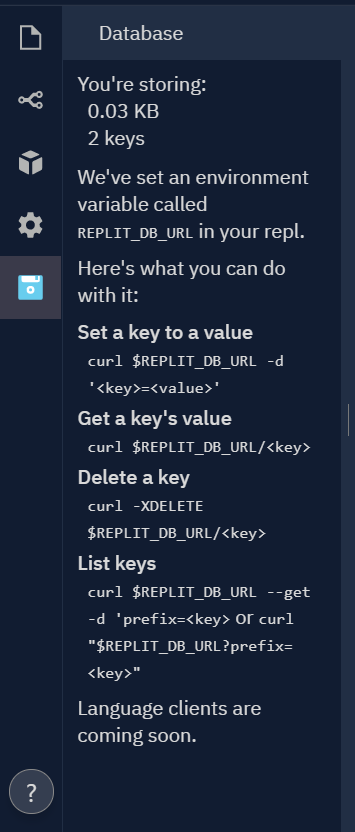 This is the homepage for your database. You can view storage usage and amount of keys.
2) Click on the box icon: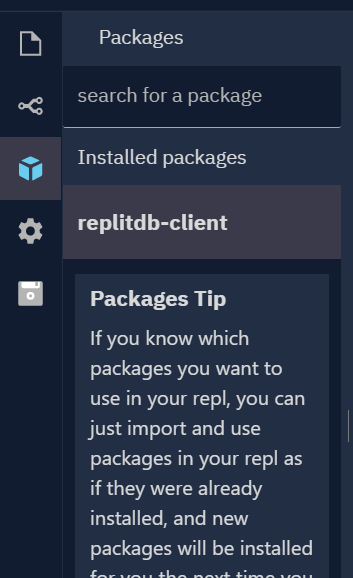 Install replitdb-client.
3) Copy and paste this code into the editor (if all you want is a minimalistic template).
4) Now, you are ready to set some commands! Inside the async function, you can do some methods. For our tutorial, we will make a what do you think of the node.js engine survey.
Some quick docs
Setting data
getting data
you can leave out the raw part, but if you set raw to false, you will either get an object, or an error (the data wasn't valid json)
listing keys
getting all data as an object
delete data
delete all data
Easy, right?
5) Prompt
Add this to your code:
This just gets our form ready. Remember the async because we are using await calls here.
6) Save to database
Quite easy. We just refer to our set method in the docs.
7) Get all data
Now, we can use client.getAll to accomplish this!
8) Parse the data
Right now our data is just an object, let's make it human-readable!
9) And that's it! We have gone through almost all of what you will be using for a database (with delete as an exception). I can't wait to see what you will make with the client!
Also, here's the working code for you to hack ;)
Homework
Make it so if the user entered a name that is already in the database, don't save to the database. (hint: db.get)
Add colors!!
Get a specific user's entry
Have a great day!
Ask in the comments below if you have any questions ;)