How to make a Discord Bot | Part 1
How to Make a Discord Bot | Tutorial #1
Intro:
So I am guessing that you want to make a Discord Bot that functions, eh?
Well, your at the right place!
The actual tutorial:
Step #1:
Have a Discord account. To create this bot and test it, you need a discord account. If you already have one, great!
Step #2:
Go to the Developer Portal. You need to go to the portal to create an application, so head on down to the Discord Developer Portal.
If this is your first time creating a bot, you won't see any application. This is how it should look: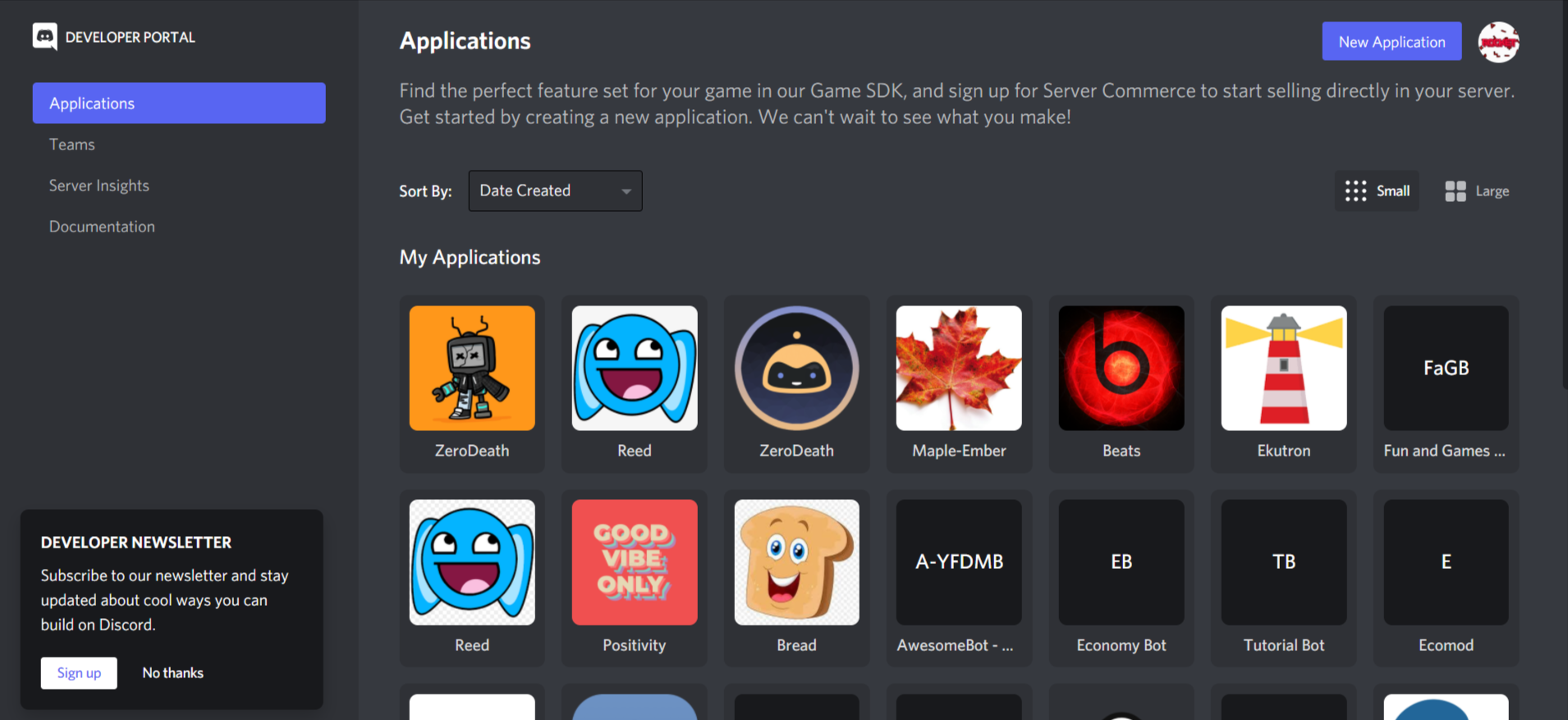 If so, good job! Your doing excellent.
Step 3:
Create an application. Click on the blue button on the top right that says, "New Application".

Then name it whatever you want, and make the application "Personal". Than click create! It should look like this: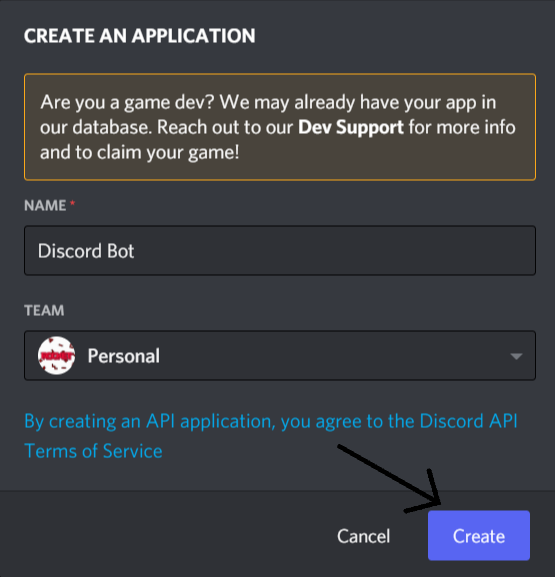 Step 4:
Create the Bot. On the right part of the page, you should see a lace that is called "Settings" Inside settings, there are many options. Click the option that says, "Bot" Than click the blue "Add Bot" button, and then click the "Yes, do it!" button. This will allow us to create our Discord Bot. Hooray!
Step 5:
Create a server you test to bot. Go to Discord and scroll all the way down on your servers list. Press the plus sign button, name the server, click done, and you have made a server!
Step 6:
Invite the bot. To invite the bot, you need to get the invite link. Use this template: https://discord.com/oauth2/authorize?client_id=CLIENT_ID_HERE&permissions=8&scope=bot
You need to change "CLIENT_ID_HERE" to your bot client ID. You can find it in the Oauth2 section.
Select the server you created and you done. The bot will be offline since we haven't coded it yet.
Conclusion:
Great job! You finished Part 1. I will release Part 2 ASAP. If you have any questions, please put them down in the comments, I'll try to answer ASAP. See you in the next tutorial.
PART 2 CAME OUT! CHECK IT OUT ON MY PROFILE.
ch1ck3n
@RocketSpot the average amount of votes a tutorial for a discord bots is 1 from what I've seen
IMayBeMe
@ShiftyBoo yeah Ik but those require insane amounts of time to write. Like I mean I have one with 20 something upvotes but it took almost a month to write
RayhanADev
@ch1ck3n I truly expect more from you smh.
Cycles are not important. Please don't ask for cycles...
@RocketSpot please remove the part where you ask for cycles, otherwise I'll have to unlist this post.
ch1ck3n
I truly expect more from you smh.
i thought I gave off a vibrantly low expectation from me
CodingElf66
Idk why so much people are upvoting. And here's a tip for you that I learned from Replit Admins: If you want to make a tutorial, make a huge one at once (what I mean by this is, don't break it up into parts, put together the parts and bond them up into like a mega tutorial). And, one more thing. You shouldn't ask people for upvotes in order for you to make the Part 2 Tutorial on Discord Bots; maybe your tutorial is good and it doesn't reach 10 upvotes, that will be sad :( . Just a little heads up and what to make your tutorial better next time, just a tip!
ThatGhost
bro what is the point in making 2 tutorials. ppl could learn how to do this (and more) in 5 minutes. plus half of the tutorial is stuff you already know how to do (if you have discord).
Skripthut
@RocketSpot ThatGhost is saying you didn't code this tutorial, which you didn't. "I bet it won't be as good as this tutorial" also doesn't make sense in that context, so I'm not sure you understood what I said.
RocketSpot
@ThatGhost at least it shows the ping :|
and it was just getting started with the code, i gotta go easy on them first
Skripthut
@RocketSpot Oh my goodness...
What did you code? This tutorial has no code, what are you saying?
RocketSpot
@Skripthut I know, this is part one of setting up the bot. Part 2 is the coding. Yes I can read.
Nathanielx3rd
@ThatGhost Damn why are people like this? Like bruh why do you have to be so mean? It isn't fair, he did his best and made a tutorial why are you being like this?
Nathanielx3rd
@ThatGhost Oh ye I just read the entire conversation, lol I just read ur comment I didn't read the whole thing. Apologies 🙏
ThatGhost
@Nathanielx3rd no need to continue the conversation, i said sorry and we handled it pretty well, if you continue to drag it on it will just cause more drama and more arguments.
Nathanielx3rd
Took a second to find, didn't realize it was on another message sheesh. I'm late to this.
Nathanielx3rd
@RocketSpot add me on the Discord : Nathanielx3rd#1256
Huh so rivals turned friends, wow that's epic.
So I didn't know this convo was on another message so I just assumed the convo just abruptly broke off.
Yes we can stop talking about this/
Nathanielx3rd
@RocketSpot I spent like over 3 hours on each of my 4 tutorials. and the most I get is less than 10 one of them is 16
Nathanielx3rd
@RocketSpot I recently posted my website and a project i made in share section I got decent support thx for the tip.
CodingElf66
@RocketSpot Uhh I think that was what he meant by that in the first place. Or maybe he means that he got ten people he knew (that aren't puppet accounts) to upvote it too, maybe he persuaded them idk. He makes them sound like he has 10 accounts on Replit, wow
RocketSpot
@ruiwenge2 Maybe it is because they want to learn :/
(Btw, I love all of your work and projects, keep up the great work man.)
ThatGhost
@RocketSpot the whole point is you shouldnt have added the pay wall, and then you lie saying you explained the code in the tutorial when there is no code. again, why make the tutorial when people could learn this and actually make their bot work in less than 5 minutes. plus why add the paywall of likes, they are pointless and useless, it wouldve been easier to have part1 and 2 in one tutorial
VXZELL12345
@ThatGhost i agree with you, maybe just make a tutorial about stuff that most people don't know.

Skripthut
@ThatGhost I'm pretty sure repl.it's "View examples" in an empty Node.JS file explains more than this.
ThatGhost
@RocketSpot that wouldve not been true if you had been smart and put it all in one tutorial
ThatGhost
@RocketSpot didnt think you would actually join. if you wanna see it the repl is public on my account
RocketSpot
@ThatGhost fine, in tutorial 3, ill put all of the commands that i have left for the tutorial
RocketSpot
@ThatGhost Hmm, the bot is very nice. Yours seems to be more of a moderation, while mines is a utilities. kinda different, almost the same. But pretty nice bot!
ThatGhost
@RocketSpot i wanna do some utilities, economy, and games, I have another bot which is for music but its 💩 so idk what imma do with it
RocketSpot
@ThatGhost i got some code for an economy + moderation bot. you want it from that? add me on discord: RocketSpot#0001
ThatGhost
@RocketSpot really? i suck with css, i just took my favourite color and messed around
the button animation is due too the transition in the stylesheet
RocketSpot
@ThatGhost my friend has a bot that has a working dashboard with a bot that has over 200 commands
ThatGhost
@RocketSpot i wanna make like a roles shop
like you get coins from answering qotds and winning games, and you can use those coins to buy roles which can give you benefits
RocketSpot
@ThatGhost ok but can you add me on discord. i may have some good ideas and code for you :|
Nathanielx3rd
For new people use this : https://discordapi.com/permissions.html/
It is a permission calculator where you can select which to use, there is a default one from Discord but I find it annoying to use. Btw I am one of the main developers of Wick Bot and Arbotix, both verified bots.
RocketSpot
@ThatGhost I thought of maybe adding a dashboard for this bot but it seems like a waste of time for you.
ThatGhost
@RocketSpot 1. The point of the tutorial is that you teach them, it is fine to give credit and even ask for stuff, but forcing it onto them, say like a pay wall of likes, is a waste of time.
I didn't say anything about the bot was a waste of time, esoecially a dashboard, but the tutorial is a waste of time. What's the point in making a tutorial with a pay wall of pointless and useless likes when they can learn all that information and more in less than 5 minutes.