why is replit being so slow lately?
so ive beem putting this off because i thought that it was just my computer being slow but after i switched a to a chromebook from my school i noticed that replit is still being slow and its getting worse, it start as it was simply taking longer to load repls but now i cant even run anything because it take 10-20 minutes for the first print statement to work, i rely on replit for school how can i fix this issue?
InvisibleOne

(3191)
Probably because there are a lot more users joining because of covid, and it can be difficult to scale quickly.
plant3jyyehejy

(16)
thats true, ive been poking around since i posted this and its a theory that the teams for education is dragging the servers down because of a bug @InvisibleOne
Bookie0

(6359)
Yep, I also think it's super slow. I get these messages like "connecting" or "retrying", as well as the replit spinning logo, or the white loading symbol, etc.
And when you press run, it takes a long time to even start executing, then actually executing. And do you sometimes get this message that says "can't edit in read only mode"?
And perhaps when you upload images or stuff like that, you can't move it as it takes so long to load?
Don't worry, I'm also getting those annoying messages. Only thing to do is wait. Or reload the page. You could also open up the shell with cmd-shift-s or ctrl-shift-s and type kill 1 which gives you a new container.
You can also report to bugs by clicking the 'get help' button on the sidebar:

Then click 'report a bug':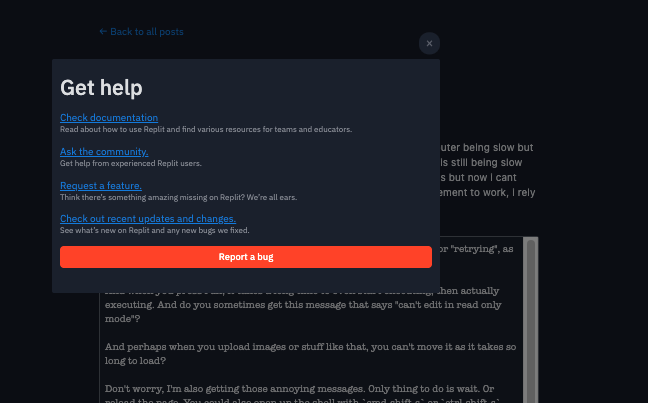 Good luck! :D