I cannot type any letter in my repls
When I am opening my repls or creating any repl I cannot type the program. I am pressing the key but the letter is not being typed
Bookie0

(6358)
Make sure the editor is in focus. Can you also link a repl? And when you start to type, do you see a little blue banner saying "Cannot edit in read-only mode"? I've had this problem a few times, and reloading the page usually fixes it.
If it still doesn't, report to bugs by clicking the 'get help' button in the sidebar:

And click 'report a bug':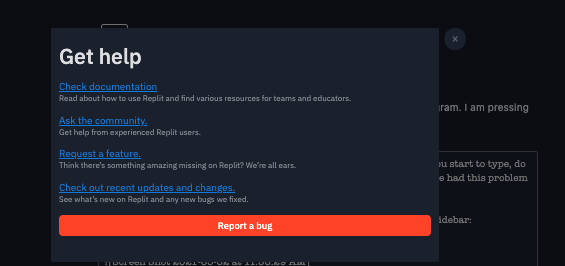 Good luck! :D
Coder100

(18874)
On mobile, the editor is a bit buggy. Make sure that you correctly selected the editor, and clicked on the editor.
YashRachchh

(0)
I can write comments writhe new repls, name, etc. But I can not write letters in the repl.
YashRachchh

(0)
Yes it is working on this site also but when I am opening the repls it is not working
FloCal35

(670)
Hmm @YashRachchh. Try signing out and back in maybe? If all else fails, report it using the get help button on the left menu