How to switch running scripts in C?
I am making a program in C and it has multiple scripts. In python, you can just do exec(open("foo.py")). But how would you do that in C? Like how do I execute a different script in C?
xxpertHacker
C doesn't have "scripts", but are you looking for imports or multi-threading?
You can't just execute C on the go, it's a compiled language.
Crcoli7307
Like how can I finish running the code in main.c and start running the code in foo.c?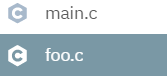 @StudentFires @TheDrone7