How to make a top nav bar
codingjlu
If you want the easy way, use Bootstrap or w3.css, which have built-in navbar stuff. Learn about how to do w3 at w3schools.
codingjlu
@Coder2404 Or you can just ask someone to make you one (I might... It's super easy with w3.css)
codingjlu
@Coder2404 Sure, if you give me edit access to your file, I can try (no guarantees though).
@codingjlu just don't ruin everything..(and I know that I can use the history :p)
But other then that, thanks!
codingjlu
@Coder2404 Do you want the navbar on all of your sites? If so, I can probably do them for you if you give me access.
InvisibleOne
basically, make a div and then set it's width to 100%, it's hight to like 40px or something, and then set its position to fixed
Baconman321
@Coder2404 It's as simple as making a div and placing it at the top like the others are saying...
To achieve this you need to know CSS and html.
Baconman321
@Coder2404 Do what? Learn CSS?
Codecademy has a great tutorial on learning CSS, I recommend you check it out (it's free, you just have to sign up).
Baconman321
@Coder2404 It's as simple as this:
The HTML:
and the CSS:
If you don't like the color or layout you can tweak it a bit.
You should know CSS to at least some extent if you are making a website.
@Baconman321 even though... there is a problem....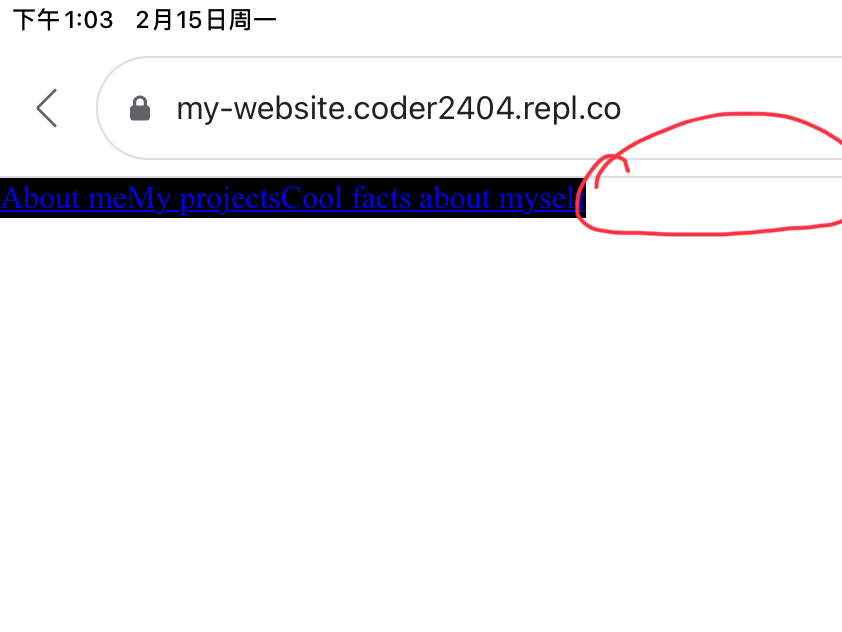 ....It doesn't extend completely..and there are no spaces in between the words..
Baconman321
@Coder2404
Ah. I've updated the comment I showed to you (the one with the code). Check it.
Also:
日本語知ってる?
@Baconman321 and please update the spaces between the text and the height of the bar, if you can do that...
@19wintersp this really helped thanks but...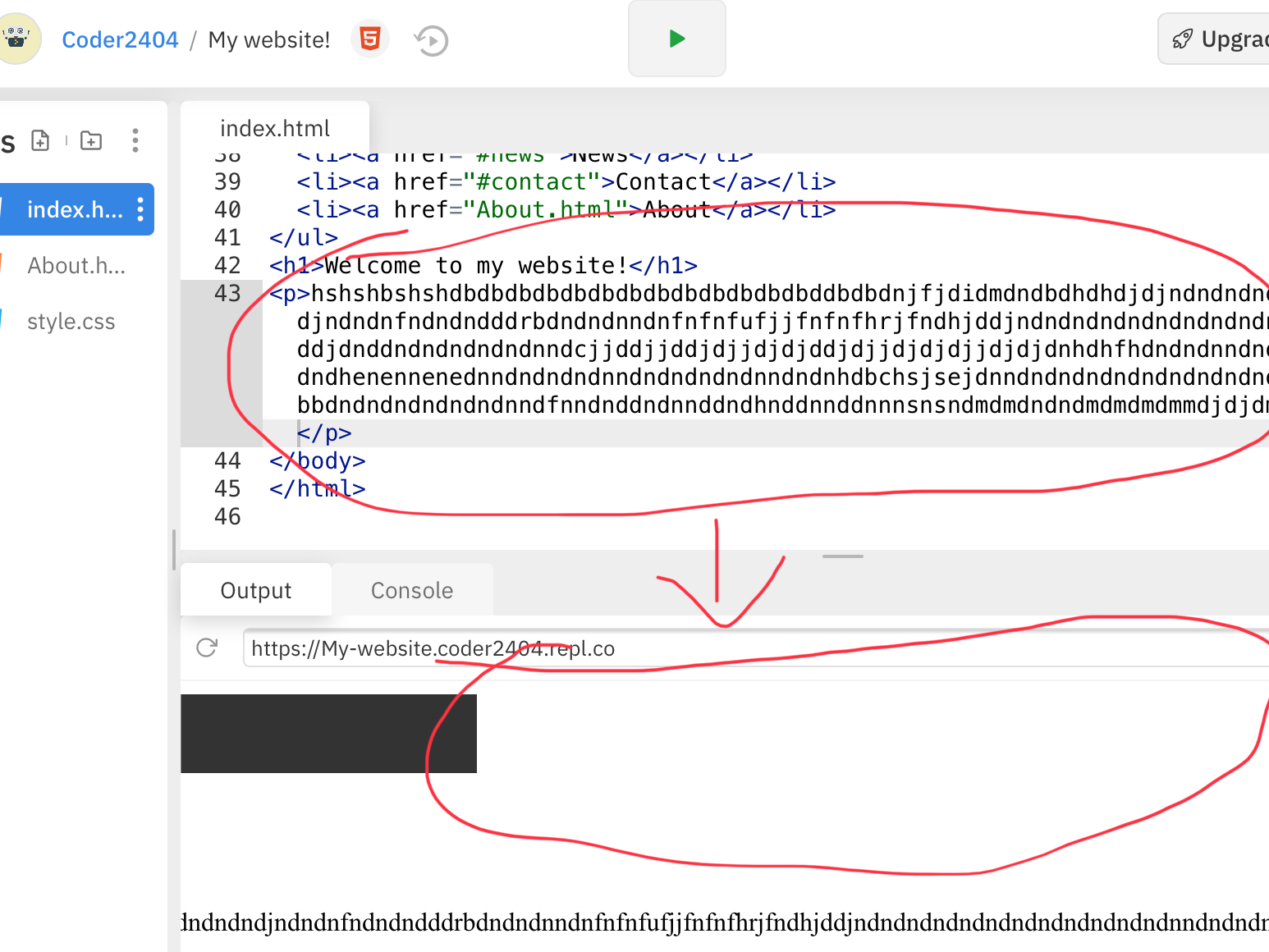 There is a problem...when I type to much and you scroll to the right it does this, please fix it....
19wintersp
@Coder2404 That's your fault; the text ("hshshb...") is one word, and so it won't wrap. If that was actual content, separated with spaces, it would be fine. If you want to force it to break (not necessary), you would set overflow-wrap to anywhere.
Baconman321
@Coder2404 Try re-adding the code I posted, I edited it a little. Putting in the div container style overflow-x:hidden; prevents it from overflowing via the x axis (sideways overflow)
@19wintersp look at my website, you can't scroll down BUT you can scroll to the right, can you fix it please it's a problem..
19wintersp
@Coder2404 It doesn't anymore, but it was because there was content overflowing to the right.
19wintersp
@Coder2404 Yes, but there isn't enough content to warrant it scrolling vertically: it will only scroll vertically when the content overflows the height of the screen!
Baconman321
@Coder2404 Can u just create a new comment at the top of the post? It's much lighter on my pings (I have other notifs that might get lost).
@19wintersp I ping so u know too.
19wintersp
@Coder2404 For the third time, it would scroll vertically if there was enough content to overflow the screen vertically! 🙃
19wintersp
@Coder2404 Same, except there was too much horizontal content. The content overflowed horizontally, and the scrollbar was created.
19wintersp
Do you have something you've tried already, or do you just want a pointer? Here's one; though the main thing is creating an element, and setting (in CSS) width to 100%, the position to fixed, and top and left to 0.
@19wintersp this is not exactly what I wanted and I don't want to be mean soo thanks for trying I appreciate it