Does Replit not support tensorflow?
I was messing going to mess around with machine learning on replit. Then when I imported tensorflow I got this,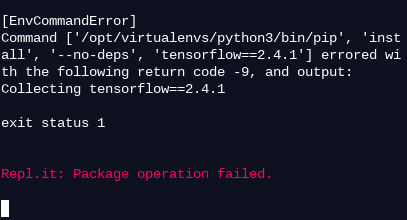 I have hacker plan so I don't think storage is the problem, so does replit not support Tensorflow?
EDIT:
I tried it again and this time I got the Disk Quota Exceeded Error, which means it is a storage issue?. So I guess the question is will replit ever boost their storage capabilities?
Try making another repl, your repl VM might just be corrupted. If it still dosent work, id suggest you contact replit support