Hi guys, so I just wanted to ask a question, so I've been making a website on repl.it using Django templates, and I've made great progress over the past few days, but today, when I ran it and opened the web page, it shows this ->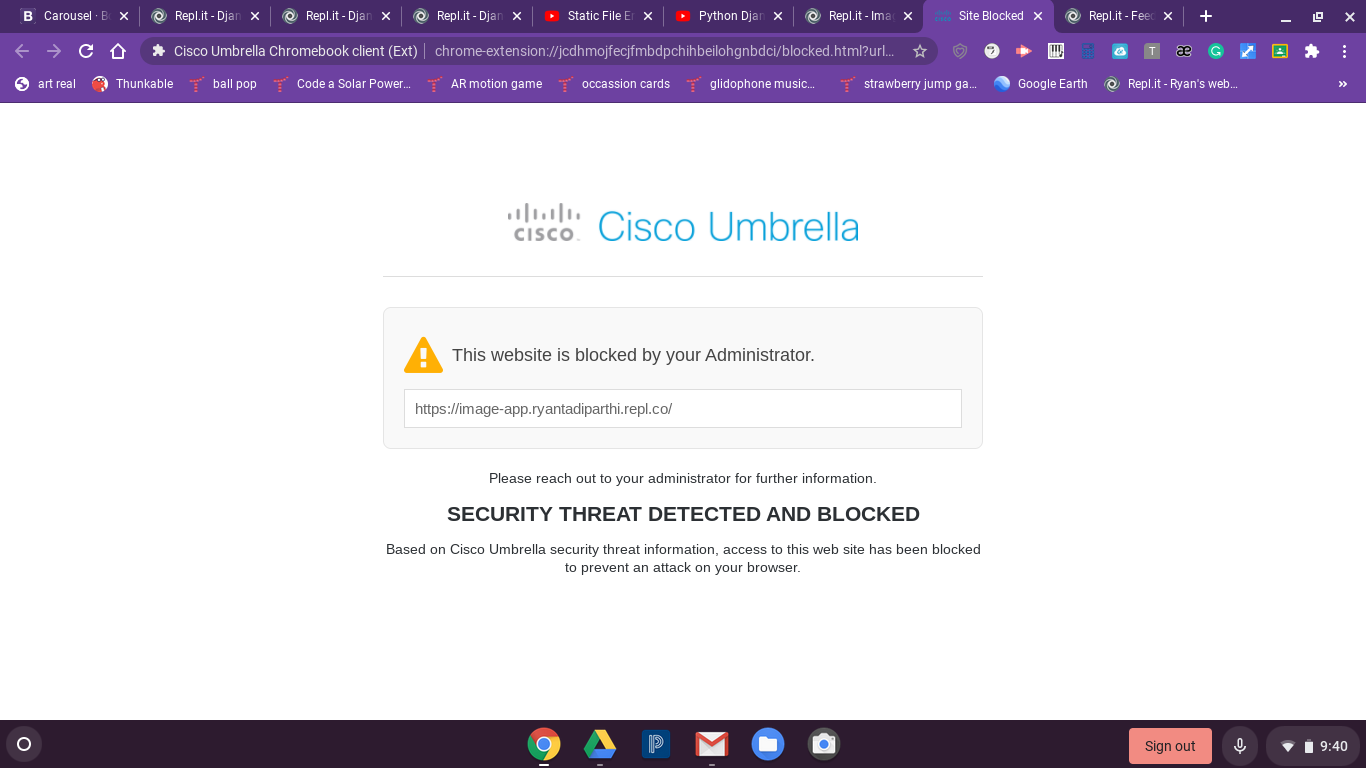 So could you give me a few suggestions to fix my problem, or if you know how to fix it, could you please tell me.
thanks!
HackermonDev

(2006)
My school blocked repl.it once and I had to create a petition to get it unblocked
RYANTADIPARTHI

(6008)
Is there a similar problem for anyone here? Because I and my brother have the problem cause we're in the same school. Please let me know. Thanks!
PattanAhmed

(1397)
@RYANTADIPARTHI Hi,
Try one of these methods:-
If you are using School WiFi then disconnect that and try with your local WiFi
Because I think that your school has set some restrictions over the WiFi
---
If that is the only way then try to contact one of the staff at your school to know more about what is happening.
Second thing is that try by Forking your Repl
I am pretty sure it may also don't work
Third thing is that Try by using different browser.
Because it can be a thing that your current browser is blocking something on your security issues.
That's it I can suggest you try
Thanks!
Hope this helps
PattanAhmed

(1397)
@RYANTADIPARTHI Discord is just a website.
Short Desc:- Your Place to Talk Hang Out
You can Sign-up on this website and have fun by chatting with people all around the world...
discord.com
That's it!
PattanAhmed

(1397)
@McJoe21 you are not a different.
I am just saying that I have never seen people like you who see posts after 6 days.
Lol!
It was just an exaggeration.
Don't take that seriously bro.
EpicGamer007

(1626)
Are you on a school computer? repl.co sites on my school computer was blocked(until this year yay:D). If you are on a school computer, the easiest way to fix this is by going to a home computer or phone. If you already are on a home computer, then try taking down your network blocking system. Or change it
Hope this helps :)
EpicGamer007

(1626)
@RYANTADIPARTHI , ummm, if you login on a seperate device your repls wont be deleted. This is why an online ide is amazing. All you need to do is sign in and you can access this from anywhere.
EpicGamer007

(1626)
@RYANTADIPARTHI , i am pretty sure on the login page, if you sign out, there should be a "Forgot your password?" button or something. If you press that, you will get an email with which you can reset your password.
If you did know your password, you could go to account and change it.
SixBeeps

(5060)
@RYANTADIPARTHI False alarms are easy to trigger on systems like those. I'd ask a teacher or your librarian to see if you can get it whitelisted.
RYANTADIPARTHI

(6008)
@Coder100 so i tried forking over, and all, but it still doesn't work. I don't know why this happened right now. Could anyone clear that up?
Like it wasn't blocked yesterday
catchacoled

(22)
Changes could have caused that cause a big chuck of how they block stuff is based off keywords. I was at school last year working on a site and it wasn't blocked but when I put a bunch of stuff regarding Minecraft on there it got blocked because the work Minecraft was on there, I had to take down the Minecraft stuff for it to fix @RYANTADIPARTHI
SixBeeps

(5060)
@RYANTADIPARTHI If it blocks other repl.co websites, then I think your school might've blacklisted the domain. Still see if you can talk to an admin about it to see what's up with it.
CodeLongAndPros

(1589)
@RYANTADIPARTHI For me repl.it is not blocked, DuckDuckGo.com is.
A false positive answer is one that is not actually the answer.
For example this one:
Welcome!
Happy to help you...