I am trying a basic print function, however Console.log isn't working, neither is alert.
vedprad1
First of all, console.log() should be all lowercase.
As for alert(), that will not work in node.js because node.js is server side. alert() is a function that is used only in client side, when HTML and CSS are involved. If you want to use alert(), you have to go to an HTML, CSS, JS repl.
If this answers your question, please check the checkmark on the left side of this message. Thanks and Good Luck!
davidwbandel
@vedprad1 what's with all the irrelevant responses on repl.it asks? they said nothing about node.js
jesus christ node.js is a tiny minority of the use cases involved with js.
PCWCFA
I found that my console.log() was working. It's just that the console is not refreshing and showing the output of console.log() unless I navigate to a different pane such as the Shell or the Markdown pane.
console.log('TEST', process.env['MESSAGE_STYLE'], typeof(process.env['MESSAGE_STYLE']));
Console on Run: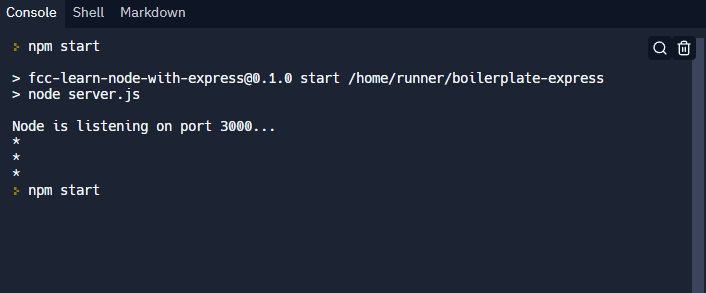 After navigating to Shell and then back to Console: