Always On problem
---
When I want to turn something into always on it says Cannot add more always on repls; you've exceeded the limit of 5.. But I don't think I have ANY repls always on.
---
Screenshot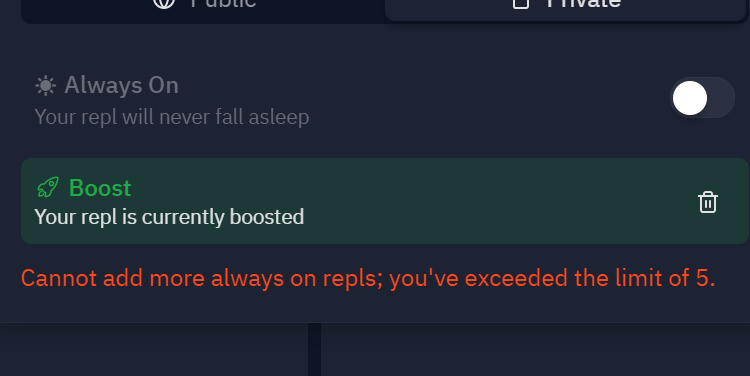 forgot the boost, that has nothing to do with the always on problem i think
help me plz! I'm desperate
if help, then +5 'you know what'
helloyanis

(11)
I don't really know for that one, but does the problem occur on every repl or just this one? In the meantime you can use uptimerobot to have it always on.
Coder100

(18187)
Yeah right clearly you have turned 5 on
basically, go to any suspicious repls that you work on a lot that you think are pretty important, and then turn always on on for it and then off for it.
Yay!
IOP3

(854)
that didn't work. Prob it's my fault, lemme check the other repls if they have always on. But thanks anyways @ch1ck3n