Customising repl.it syntax highlighting with repl.it-color
Note: repl.it-color is made by myself, not repl.it. Also, it doesn't work on phones and possibly tablets because repl.it uses the Ace editor on phones rather than Monaco.
Greetings!
Currently, the only options that repl.it gives for personalising your syntax highlighting is a switch between default light and dark themes. I decided to write a very basic Chrome extension that allows customisation of the repl.it syntax highlighting. The result is repl.it-color.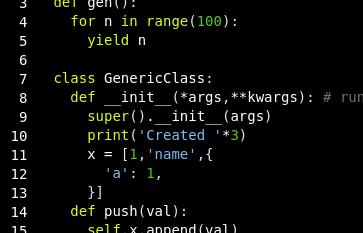 repl.it-color allows you to change the syntax highlighting completely on repl.it.
Installation
You can get it on the Chrome Web Store here.
Make sure you enable Dark Theme in your repl.it editor - if you like light theme, you can change the settings via repl.it-color later. However, dark theme needs to be enabled in order for the syntax highlight customisation to work.
Usage
Once you have installed repl.it-color, you should see that the editor has turned into a rather vile color.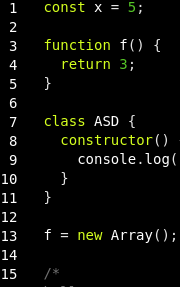 To change what colors you want everything to be, you can click on the small repl.it-color icon in the top right hand corner in Chrome, next to your extensions, and select Options. (If the icon doesn't appear, this may be because it isn't pinned, so click the jigsaw icon in the top right and you should be able to access it through there.) This should open a new tab with which you can edit your color scheme.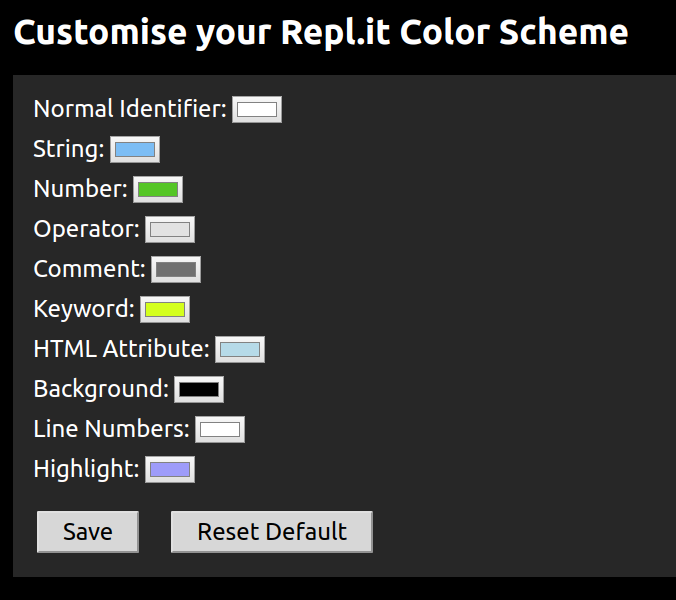 Now you can fiddle around with the colors to get repl.it looking exactly how you would like.
Thank you
Thank you for checking out repl.it-color - please let me know if you like it or if there are any things you would like me to change. Please upvote to let me know if you like it, and help other people find it.
If I do make any changes, I will post them here. You will need to re-download the repository to update (if you want to update).
Thanks :)
Another Option
I just found out that a while ago, @minx28 made a tutorial on using CSS injection to edit syntax themes. Check that out too!
Changelog
16th July 2019
I have now integrated a CSS editor, to allow for finer control over text - for example, try
to make the comments italic.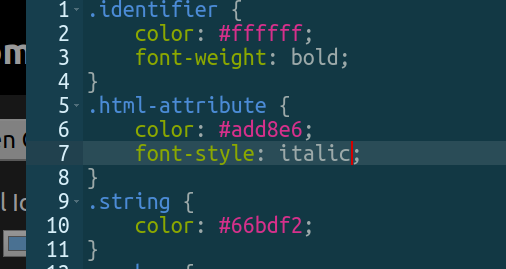 You will need to re-download and upload the repo from github to update to this version. Let me know if you find any bugs! :)
12 September 2020
For the new update to Repl.it UI, I've updated the extension (thanks @blaw and @zahrazadeh for bringing this to my attention!). I also re-wrote most of the code, and removed the CSS editor (under the hood, it was extremely hacky). I've added a bold/italic option to compensate. If you were using the CSS editor and can't do something anymore, let me know and I'll add it to the UI.
You will need to re-download and upload the extension from github to update to this version. Let me know if you find any more bugs! :)
16 December 2020
Thanks @RolandJLevy for bringing to my attention that the Chrome default behaviour has updated so the extension initially won't be pinned, and also for pointing out an error with the user interface that was causing the extension to crash.
9 Jan 2021
Thanks @TommyVictory for pointing out that GitHub's UI has changed. I've updated this post.
12 March 2021
Added to Chrome Web Store.
11 October 2021
Fixed indentation lines - thanks to @diamondtnt2018